Jeevan Nedunchezhiyan continued his good run since being crowned men's champion at the Senior Nationals, entering the semi-finals of the US  $15,000 CCI-ITF Futures tennis tournament, in Mumbai, on Thursday.
The left-hander, seeded 6 and ranked 400 in the world, got past No 1-ranked Indonesian Davis Cupper Christopher Rungkat.
After a close first set, he called the shots in the second to topple the No 2 seed, ranked world No 303, winning the quarter-final 7-6(2), 6-2.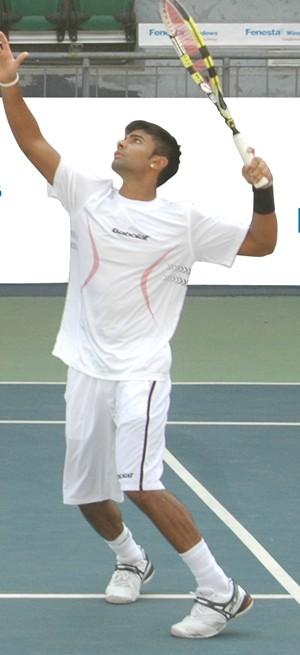 In the semi-finals, he will meet compatriot Purav Raja.
Raja, a wild card, continued his sensational run, beating James Marsalek of Great Britain, who shocked India No 3 seed Sriram Balaji in the pre-quarters on Wednesday, 6-3, 6-4 in 90 minutes.
The other semi-final will be between Croatia's Mate Pavic -- conqueror of top seeded Indian Davis Cupper J Vishnu Vardhan (who pulled out after losing the opening set) on Wednesday -- and Taipei's No 4 seed Liang-chi Huang.
Pavic sent eighth seeded Indian Ranjeet Virali-Murugesan packing 7-6(2), 6-1 in a little less than two hours, while Huang defeated Nicholas Reissig of Austria 4-6, 6-1, 6-2 in 84 minutes.
Jeevan broke Rungkat in the fourth game of the opening set to jump to a handy 3-1 lead before the Indonesian broke back in the seventh to close the gap to 3-4. Thereafter, games went with serves leading to the tie-break, which the Indian youngster won 7-3 for the first set.
Jeevan then broke twice -- in the first and seventh games -- to win the second set 6-2 and seal a berth in the semis.
In the clash between Raja and 20-year-old Briton Marsalek, the Indian broke in the fourth and sixth games of the first set while dropping serve in the fifth.
The two then traded breaks in the fifth and sixth games before the former effected the decisive break in the ninth and proceed to clinch the second set and the match.