Tony Parker scored a season-high 42 points to propel the San Antonio Spurs past the league-leading Oklahoma City Thunder 107-96 on Saturday night.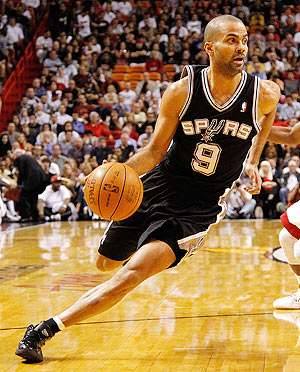 The Southwest division-leading Spurs (16-9) improved to a league best 13-1 at home in their final game at the AT&T Center before playing their next nine games on the road.
"I was rolling tonight," Parker said. "Every time I popped, I felt better in my head. I was in attack mode."
Following a slow start and some prodding from his coach Gregg Popovich, Parker found his scoring stroke in the second quarter with 10 points as the Spurs pulled away from the Thunder and opened a 57-47 half time lead.
"Pop (Popovich) got onto to him about trying to score the ball, that we needed it tonight," Spurs forward Tim Duncan said. "He stepped up and he did just that. Once he got rolling he just kind of took over the game. It was great."
Parker also added nine assists to go with his sharp-shooting. With his eighth assist Parker passed Avery Johnson to establish a new franchise record with 4,477 assists.
The Thunder led early, but a string of three successive three-pointers by the Spurs turned a five-point deficit into a four-point lead and the Spurs never looked back.
"Tony Parker had his way with us," said Thunder coach Scott Brooks. "It's all about stopping the basketball, and we didn't do a very good job of that."
Kevin Durant led the Thunder with 22 points and 11 assists and Josh Harden scored 19 points off the bench.