The Oklahoma City Thunder, getting a tremendous boost from their bench, beat the Dallas Mavericks 106-100 to level the best-of-seven Western Conference Finals at 1-1 on Thursday.
Kevin Durant, the NBA scoring leader the last two years, scored 24 points to lead the Thunder in scoring but was supported by a mighty effort from the reserves topped by guard James Harden's 23 points, seven rebounds and four assists.
The back-ups, who manned the floor throughout the fourth quarter alongside Durant, combined to score 50 points in the game.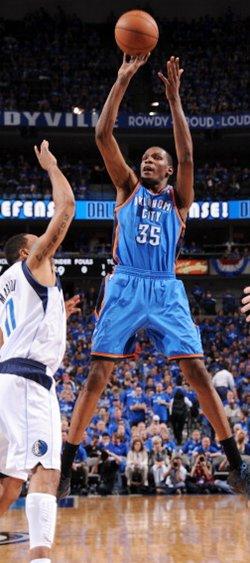 Harden gave Oklahoma City the lead going into the final period by producing a four-point play at the end of the third quarter.
The guard drained a three-pointer and was fouled in the process. After sinking the free throw, the Thunder led 77-76.
A long jumper by Harden padded the lead to 102-92 with 3:15 left, and Oklahoma City withstood a furious fightback led by Dirk Nowitzki, who had been quieted by some heavy double-team defensive pressure following his Game One eruption for 48 points.
Nowitzki, the 7-foot (2.13 m) German jump shooter, scored 16 fourth-quarter points to finish with 29.
The Mavericks led by as many as 11 points in the first quarter before Durant changed the momentum with a thunderous, rim-rattling dunk over Dallas center Brendan Hayward.
Oklahoma City finished the first quarter trailing 31-26 and surged into a 59-57 at the intermission.
Durant praised the work of the reserves.
"We had a good chemistry going and the coach made a great decision to stick with it," Durant told reporters. "They really won the game tonight."
The series now shifts to Oklahoma City for Game Three on Saturday.
Image: Kevin Durant #35 of the Oklahoma City Thunder shoots against Shawn Marion #0 of the Dallas Mavericks