Derrick Rose of the Chicago Bulls was voted the 2010-11 Kia NBA Most Valuable Player.
Rose, who does not turn 23 until October 4, becomes the league's youngest MVP, a distinction previously held by Wes Unseld, who earned the honor in 1968-69 as a 23-year-old.
Rose, who was awarded the Maurice Podoloff Trophy, totaled 1,182 points, including 113 first-place votes, from a panel of 120 sportswriters and broadcasters throughout the United States and Canada as well as an NBA MVP fan vote.
For the second consecutive season, the NBA and Kia Motors America gave fans the opportunity to submit their votes by ranking their top five choices through a dedicated web page on NBA.com.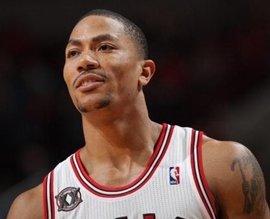 The fan vote counted as one vote and was compiled with the 120 media votes to determine the winner. Players were awarded 10 points for each first-place vote, seven points for each second-place vote, five for third, three for fourth and one for each fifth-place vote received.
Rounding out the top five in voting are Orlando's Dwight Howard (643 points, three first place), Miami's LeBron James (522, four first-place votes), the Los Angeles Lakers' Kobe Bryant (428, one first-place vote) and Oklahoma City's Kevin Durant (190).
Rose, who became the first player since Steve Nash in 2005 to win the MVP award after not receiving any votes in the previous year's balloting, led the Bulls to an NBA-best 62-20 mark.
The third-year player averaged team highs of 25.0 points and 7.7 assists to go along with 4.1 rebounds. He became the seventh player in NBA history to average at least 25.0 points, 7.5 assists and 4.0 rebounds, joining Oscar Robertson, Jerry West, Larry Bird, Michael Jordan, Dwyane Wade and LeBron James. The All-Star guard made or assisted on at least half of the Bulls' field goals in 26 games, the highest such total for any NBA player this season.
Rose, who recorded 23 double-doubles and scored at least 30 points on 23 occasions after doing so eight times combined in his first two seasons, was the only player in the NBA to rank in the top 10 in scoring (seventh) and assists (10th). Only once in team history had a Bulls player finished in the top 10 in scoring and assists (Michael Jordan, 1988-89).
He tallied 2,026 points, 623 assists and 330 rebounds, becoming only the fifth player in NBA history to post 2,000 points, 600 assists and 300 rebounds in a single season as he joined Robertson, John Havlicek, Jordan and James.  
The NBA MVP trophy is named in honour of the late Maurice Podoloff, the first commissioner of the NBA, who served from 1946 until his retirement in 1963.