Stunned though he was that Phil Jackson has not returned as Los Angeles Lakers head coach, All-Star guard Kobe Bryant said on Tuesday he was excited about the prospect of playing under new appointee Mike D'Antoni.
The Lakers shocked the basketball world on Monday when they named former Phoenix Suns and New York Knicks coach D'Antoni to replace the fired Mike Brown while overlooking the heavily favoured Jackson, an 11-time NBA championship winner.
"We were all thinking it was gonna be Phil," Bryant said after taking part in a Lakers shoot-around. "It probably caught Mike a little bit off guard, too."
"But I'm excited. I spoke to Mike (on the phone) this morning. It was great. It was really short, just 'hello'."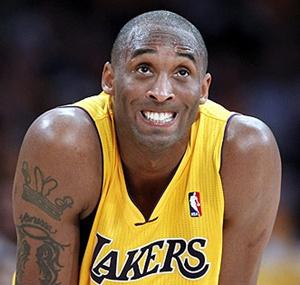 While Bryant has deep affection for the ice-cool "Zen Master" Jackson after winning five NBA titles in Lakers colors with the veteran coach, he also holds D'Antoni in high esteem.
A 14-time All-Star, Bryant was a huge fan as a child of D'Antoni's basketball play in Italy, where he grew up, and later got to know him well when D'Antoni was an assistant coach on the U.S. national team.
"We have a great relationship," said Bryant. "The offense that he installed for our USA team was the offense that we ran to the tune of two (Olympic) gold medals.
"We all know the type of talent that we had on that team, so it was important for us to have an offense that was flexible, that was open and that kept everybody involved. It worked pretty well for us.
"I've obviously played against his teams for a number of years and I know his philosophy. I know how competitive he is. He's a feisty, feisty dude. Temperamental, even. I like that."
D'Antoni will take charge of a Lakers team that made a dismal 1-4 start to this season before winning their next two games after Brown was abruptly fired as coach on Friday.
He is known for his fast-paced offense-oriented system and Bryant believes the new coach will adapt quickly in Los Angeles, despite inheriting an ageing team led by a quintet of thirty-somethings.
"It's gonna be fine," said Bryant. "It's not like he takes the same thing that he did in Phoenix and incorporates that here. He has different personnel.
"He can use Steve (Nash) to his greatest advantages and me to mine and Dwight (Howard) to his and Pau (Gasol) to his and so on and so forth. It's really about spacing and reading. It shouldn't be too hard."
D'Antoni had a 388-339 record as head coach of the Denver Nuggets, the Suns and the Knicks, achieving his greatest success in Phoenix where he twice guided the team to the Western Conference finals.
During his five seasons with the Suns, D'Antoni established a strong relationship with point guard Nash which will certainly help him as he adjusts to the Lakers but some critics point to a perceived lack of focus on defense.
Bryant scoffs at such suggestions.
"That's just because he hasn't won any (NBA) championships," said Bryant. "To be honest with you, in all years I've been with Phil, we've maybe done three defensive drills. I'm not understating it at all.
"Phil's philosophy was always, 'You guys need to figure it out on your own', and that's what made him a phenomenal coach. He was able to sit back and trust the process, trust the players to communicate with each other.
"That's when a team is at its best, and as a result we've had some great defensive teams."
Photograph: Lucy Nicholson/Reuters