The Indiana Pacers took advantage of an ice-cold Los Angeles Lakers side with a 98-96 victory on Sunday, inflicting a third successive loss the home team.
Click here for Rediff Realtime News!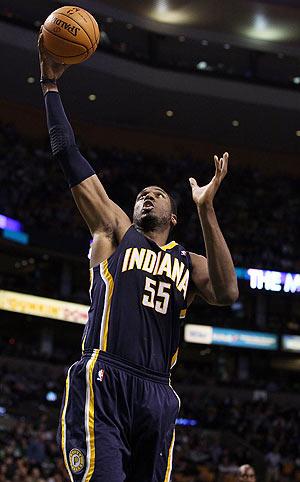 Indiana overcame a seven-point deficit in the fourth quarter, beating the Lakers for the second straight time at the Staples Center after ending a 14-game skid there just last season.
Roy Hibbert played through a broken nose suffered in the first half and had 18 points and eight rebounds, knocking down six straight points in the final quarter to pull the Pacers within one with six minutes left.
Hibbert sustained the nose injury while fouling Kobe Bryant in the first quarter but returned in the second to lead the charge.
"Valiant effort by Hibbert. He really carried us in the second half," Pacers coach Frank Vogel told reporters. "This is what our team is all about, a balanced attack."
Danny Granger added 16 to help the Pacers (11-4) close strong and Indiana finished with six players in double figure scoring.
Los Angeles still led 94-91 in the final two minutes but Hibbert and Darren Collison scored consecutive field goals to put the visitors ahead.
The Lakers, struggling woefully on offense this season, missed four shots in a row, including a potential game-tying three-pointer from Kobe Bryant in the last seconds.
Bryant, the league's leading scorer, had 33 points on 14-for-30 shooting but it was not enough to keep Los Angeles from falling a game behind the cross-town Clippers in the Pacific Division.
Andrew Bynum chipped in 16 and eight rebounds for Los Angeles.
The Lakers were coming off road losses to Miami and Orlando and were hoping to recover at home.