'I believe if a player is not mentally tough he cannot achieve the pinnacle of success.'
Palpreet Singh faces his biggest test at the NBA D-League try-outs in Houston on Friday, August 5.
Norma Godinho/Rediff.com spoke with the Punjab cager before his departure to the United States.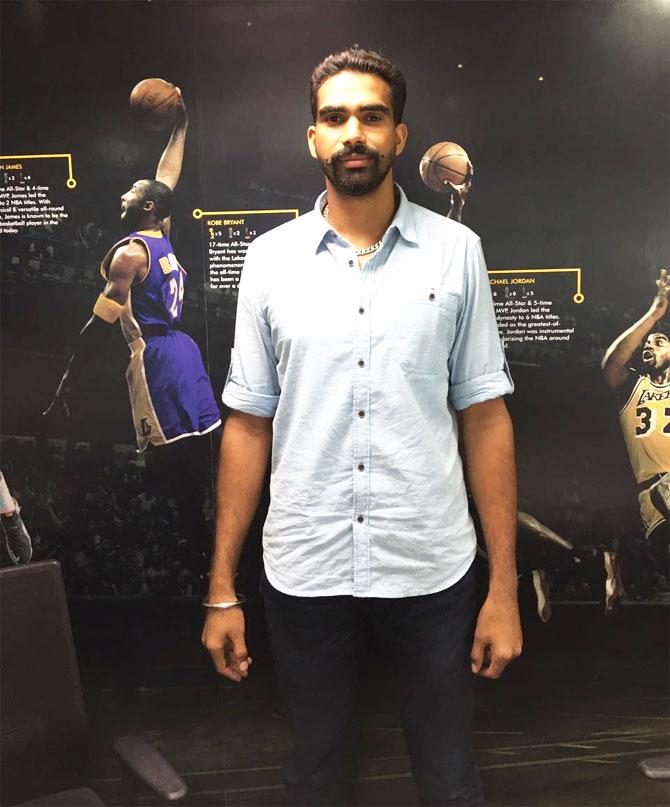 IMAGE: Ludhiana's Palpreet Singh ready to impress the cream of NBA. Photograph: NBA India
Palpreet Singh Brar, standing 6 feet 9 inches, appears an intimidating figure. But sit with him for a chat, and his easy-going demeanor and straight-faced humour will have you alter any perceptions harboured of the 21-year-old.
Quietly confident before leaving for Houston in Texas, where he will train at the John Lucas Academy ahead of the NBA D-League try-outs on August 5, he termed the trip an opportunity of a lifetime.
"I'm very excited about the golden chance. More than anything, there is a responsibility on my shoulders. India ka naam uncha karna hai (want to keep up the name of India). I have to do justice to the faith shown in me by the NBA scouts," said Palpreet, who was handpicked by multi-NBA champion Brian Shaw at the AGC-NBA national camp in Jaipur this February.
Like most good things in life, fate had a hand in this episode too.
Palpreet had just recuperated from a knee injury that kept him out of the game for a year when he heard about this particular NBA national camp.
A student of Government College, Ludhiana, where his tryst with basketball began, he recounted how he would have missed on the "lifetime of an opportunity" had it not been for a friend's timely intimation.
"I'm not much into the Internet. But my friend at the Ludhiana academy read about the NBA-AGC program on the Internet and asked me to enroll. I went to the Delhi trial-outs. Interest kept getting higher as I progressed. I wanted to get better. I knew, step-by-step, I can get better by watching the foreigners at the AGC camp and I was happy to be eventually picked," said the big man.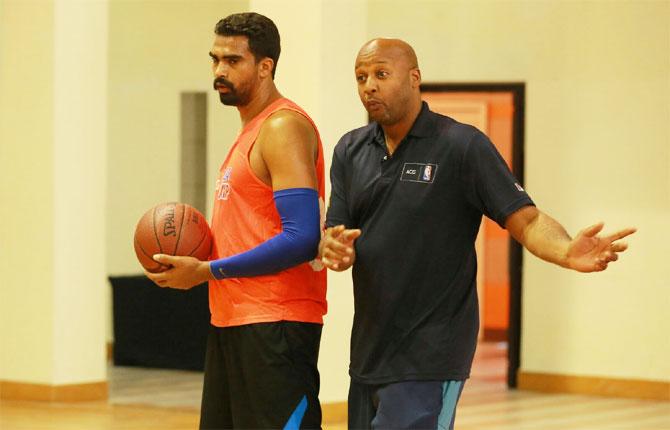 IMAGE: Multi NBA champion Brian Shaw trains Palpreet Singh at the AGC-NBA national camp in February. Photograph: NBA-AGC
A native of Muktsar Sahaib, a village some 150 km from Ludhiana, Palpreet did not consider basketball as his calling.
Growing up, studying was the least of his worries, but he was there to lend a hand to his parents in the fields where they grew wheat and rice.
"Padhai mein dhyaan hi nahi tha (there was no interest in studies). I studied only till BA first year and then left. Ghar mein kaam karna, kheti baadi karna; in sab mein mujhe khushi milti thi (House work, field work, I would enjoy those chores). Studying was time pass for me.
"I gave more attention to sports. Hum bachpan mein kabaddi khelte the (we used to play kabaddi in our childhood). It's in our blood to play kabaddi. We would play one-on-one... the seven-a-side is not popular there. Punjab mein wohi chalti hai (in Punjab, it's played like that)," elaborated Palpreet.
A follower of LA Clippers, he seriously considered basketball only after being pushed by his first coach, the late Dr Sankaran Subramanian, to pursue the sport.
"I started basketball in the tenth standard. 2010 mein ek surprise saamne aaya. Mujhe maloom hua ki (In 2010 a surprise came my way; I came to know that) I have the requisites for a basketball player. From then on I have been interested in basketball. In college also I played. Subramanian sir always backed me. I played two years in college, then gave it a gap.
"This was in 2010. For two months I was home. I was homesick, so I ran home from college. I said I didn't want to play.
"While I was at home, coach Subramanian summoned me to come back. He saw potential in me and encouraged me. He told me, 'you play well, so don't go back home; just keep training'," recounted the India international.
Under the watchful eye of Subramaniam, Palpreet trained regularly to become a rising star.
"Dr Subramanian has a role in making me a tough player. In the beginning we would practice for three sessions. Even if we would be tired after the first session he would push us to continue. He instilled that discipline in us.
"Training was special when Dr Subramanian was around. After his passing I got stuck for a bit. I did not have any coach and was only coached when I was chosen for India camps. I used to work on basic basketball fundamentals, shooting skills. He used to give me mock situations and I had to play around those."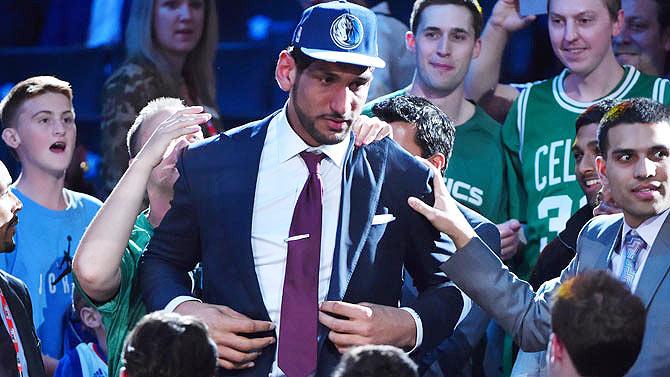 IMAGE: Satnam Singh, the first India-born player to be selected in the 2015 NBA draft by Dallas Mavericks. Photograph: NBA India/Facebook
His perseverance and hard work finally paid off when he got into the national team. After being selected for the Under-19 Junior India camp in 2011 in Delhi there was no looking back.
"After playing well in my first tournament, the FIBA Under-18 Asian Championships in Mongolia in 2012, I took a lot of confidence from it. I knew I could play more. Coaches started showing interest in me. Then I got into the senior team in 2014, when I was picked for the Incheon Asian Games; then SAFF Games and Lusifonia Games.
"Mental toughness honi zaroori hai... usi pe hai sab (is essential; it's all about that). I believe if a player is not mentally tough he cannot achieve the pinnacle of success."
Palpreet played in the Indian team alongside Satnam Singh, who was drafted by the Dallas Mavericks for the NBA D-League last season.
"We were together for a year in the academy and room-mates. Then he went to Florida. We still keep in touch.
"He told me the facilities and training equipment, infrastructure in the US is good and different from India. That lalach (greed) to get that better infrastructure, etc, played a part in motivating me to get here."
Before his departure to the US for a month-long training stint, Palpreet underwent a three-month intense course in Kochi.
"It was systematic and organised. Morning gym time, afternoon basketball work-out, evening ground work and speed work-out. We had three sessions a day with six hours of training," informed Palpreet.
So, can Palpreet mirror Satnam's feat and get picked in the NBA D-League this season?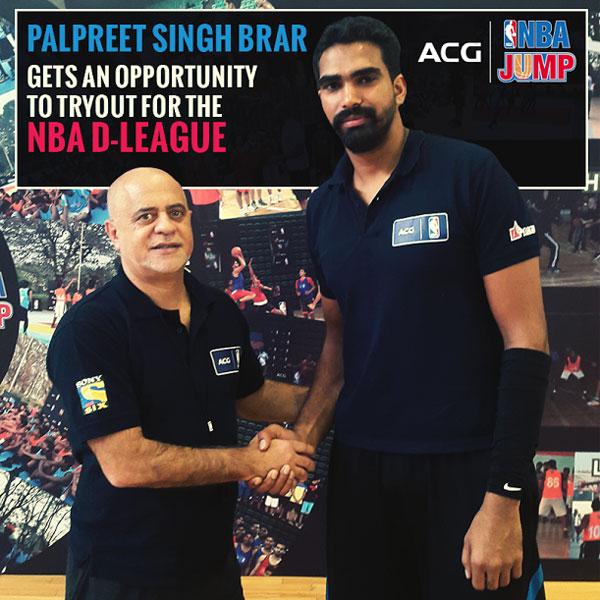 IMAGE: Palpreet Singh is congratulated by Carlos Barroca, NBA India, VP (left) after winning the AGC-NBA national camp. Photograph: AGC-NBA
Yes, feels Carlos Barroca, Vice-President, NBA India.
"Palpreet has many positives -- he is flexible guy, humble to learn. He has basic qualities you require to be successful in any kind of sports and in life in general.
"He might surprise a lot of people with the way he is conducting himself right now. He is humble, listening to everyone, catching things from different cultures and being respectable. He is punctual also. He is a work in progress but he will reach high soon," says the Portuguese.
He also revealed that during the three-month coaching in Kerala, Palpreet was taught Pilates, yoga and was also given a language coach to help him communicate in the Queen's language when in the US.
Talking about his commitment, Barroca gives Palpreet the thumbs up.
"He comes from India where basketball is not yet a top sport, so the level, intensity and quality of the competition and surrounding of the players is not the best in the world.
"Now he goes to America where everyone breathes basketball, so he has to adapt. He has to go from a small village of basketball to a big city of basketball. So it's a process. Nothing happens by a snap of your fingers.
"It takes sweat, passion, commitment, determination, an ability to suffer and go through, and he is showing that.
"Is that going to be enough? We don't know. But he has it in him to impress the people concerned."
Palpreet himself is looking forward to the big day.
"Going for the D-League try-out is a challenge. I have to deal with and chase the challenge. I'll take it as it comes. Mazza aa jayega (it will be fun).
Palpreet's favourite one-liner is Kheech loonga (will pull through).
Hopefully, he'll do just that with an extraordinary show in Houston on Friday.