Veteran basketball player Jason Collins announced on Monday that he was gay, smashing through one of the final frontiers in US sports with a frank personal statement and winning warm praise as a groundbreaker.
Collins, a 12-year player in the National Basketball Association (NBA), became the first active athlete from any of the four major US men's professional sports leagues to come out publicly as gay.
He was quickly enveloped in a wave of support from the White House to tennis player Martina Navratilova, a pioneer for gay athletes in sport.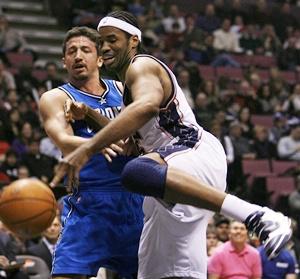 Collins is not a well-known sports star but is now likely to become famous for his stance. He revealed the secret he had harbored for years in a first-person account published in Sports Illustrated, saying he had gradually become frustrated with having to keep silent on his sexuality.
"I'm a 34-year-old NBA center," his essay began. "I'm black. And I'm gay."
Collins said he had considered coming out years ago but it was the Boston Marathon bombings this month that convinced him not to wait any more for a perfect moment to come out.
"I wish I wasn't the kid in the classroom raising his hand and saying, 'I'm different.' said Collins, who played last season with the Boston Celtics and then the Washington Wizards and is currently a free agent. "If I had my way, someone else would have already done this. Nobody has, which is why I'm raising my hand."
Players, administrators and some politicians applauded him for taking a stance. Some hailed it as a landmark day in American civil rights, perhaps as important as when Jackie Robinson broke the color barrier in baseball.
President Barack Obama, a big fan of the NBA who regularly plays pickup basketball with his friends, called Collins to express his support, a White House official said.
"I can certainly tell you that here at the White House we view that as another example of the progress that has been made and the evolution that has been taking place in this country, and commend him for his courage, and support him in his -- in this effort and hope that his fans and his team support him going forward," said White House spokesman Jay Carney.
Collins' move came at a time of shifting attitudes toward gay rights in the United States, where polls show public opinion is fast moving toward greater acceptance, although a core of social conservatives oppose such change.
Some in sports declined to join the chorus of voices in support of Collins. Sportswriter Chris Broussard, speaking on ESPN television, grouped homosexual acts with adultery and premarital sex, saying he believed this was "walking in open rebellion to God."
In the coming months, the Supreme Court will rule on whether to strike down parts of a federal law that defines marriage as the union between a man and a woman. In 2011, the military repealed a ban on openly gay soldiers.
"Jason's announcement today is an important moment for professional sports and in the history of the LGBT (lesbian, gay, bisexual, transgender) community," former U.S. president Bill Clinton said in a statement.
NBA commissioner David Stern said he was proud of Collins for taking a brave stance.
"Jason has been a widely respected player and teammate throughout his career and we are proud he has assumed the leadership mantle on this very important issue," Stern said.
In a country where it is no longer news for politicians and entertainers to be openly gay, there had been questions over the lack of an openly gay player in the big four men's professional leagues: the National Basketball Association, the National Football League, the National Hockey League and Major League Baseball.
Sports, which helped play a key role in changing public opinion on racial discrimination, had come to seem out of step with much of the rest of American society.
Collins, who has played with six different teams during his 12 years in the NBA, said he never had any grand plans to be the first openly gay player, but events off the basketball court persuaded him to come out.
He was inspired by last year's gay pride parade in Boston, he said, but delayed making an announcement due to a desire to protect his team, waiting until the end of the regular 2012-2013 season ended. Collins was also prompted by the April 15 Boston Marathon bombings which killed three people and wounded more than 200, he said.
Photograph: Ray Stubblebine/Reuters