Pistons head coach Lawrence Frank joined Cleveland Cavaliers' Byron Scott and Philadelphia 76ers' Doug Collins on the unemployment line on Thursday, as heads continued to roll just hours after the NBA regular season concluded.
Scott and Frank were both fired by their team while Collins resigned his post, leaving three head coaching vacancies.
Frank spent two seasons with the Pistons without making much of an impact posting 54-94 record and failing to make the post-season.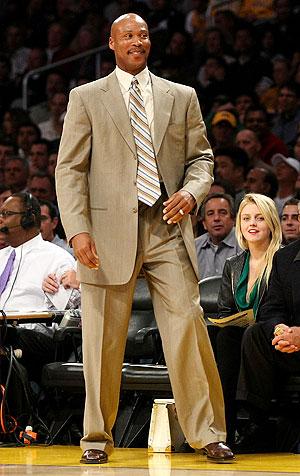 The Pistons finished 11th in the Eastern Conference this season with a 29-53 record.
"We thank Lawrence for his hard work and dedication but we feel it is in the best interest of the franchise to make a change at this time," said Pistons president of basketball operations Joe Dumars in a statement.
"Decisions like this are never easy and we wish Lawrence well in the future."
Scott had steered the Cavaliers to a 24-58 record that put them last in the Central Division, 25 1/2 games behind division winners the Indianapolis Pacers.
During his three seasons with the Cavs, Scott's teams compiled a record of 64-166.
A frustrated Collins walked away from the 76ers' coaching job after a 34-48 season that tied Philadelphia for last place in the Atlantic Division with the Toronto Raptors.
The Sixers' season began to unravel after a knee injury sidelined center Andrew Bynum, who was acquired from the Los Angeles Lakers in a trade. Philadelphia missed the playoffs for the first time in Collins's three years as the coach.
Collins, who will remain with the franchise as an adviser, had one year left on a four-year deal worth $4.5 million.
Collins, 61, said he made the decision around Christmas time that this would be his last season as coach.
He compiled a record of 110-120 in Philadelphia, moving his overall mark to 442-407 over 11 seasons as an NBA head coach including stops in Chicago, Detroit and Washington.
"I don't have to drop my head, I didn't fail," said Collins, who announced he would not coach anymore in the NBA.
"A lot of it was out of our control and sometimes you have to realize that."
One coach believed to be on the hot seat was given a reprieve as Los Angeles Lakers General Manager Mitch Kupchak said on Thursday that Mike D'Antoni would be back next season.
D'Antoni lost 20 of his first 32 games on the job after being installed early in the season, but the Lakers qualified for the playoffs as the Western Conference's seventh seed despite losing Kobe Bryant to injury, finishing with a 45-37 record.
Photograph: Stephen Dunn/Getty Images