A national level wrestler died after he was electrocuted at a water-logged, dilapidated stadium in Jharkhand on Wednesday.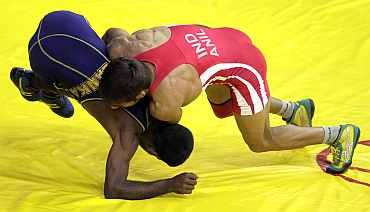 According to reports, Vishal Kumar Verma was pumping out water that had collected near the state wrestling body office -- inside the stadium -- when he was electrocuted, reports said.
The 25-year-old was rushed to a nearby hospital from the Jaipal Singh Stadium in Ranchi where he was declared dead, according to local media reports.
A short circuit at the dilapidated stadium building, which houses the office of the Jharkhand State Wrestling Association (JSWA), caused the death.
The indoor stadium, built in 1978, has been flooded with rainwater since the beginning of monsoon.
Vishal, who was the only earning member in his family of six, started his wrestling career in 2005 and had a fourth-place finish in the last senior National Wrestling Championship.
The wrestling association in Jharkhand has announced a compensation of Rs 1 lakh for Vishal's family.
Image used for representational purposes
Photograph: Reuters