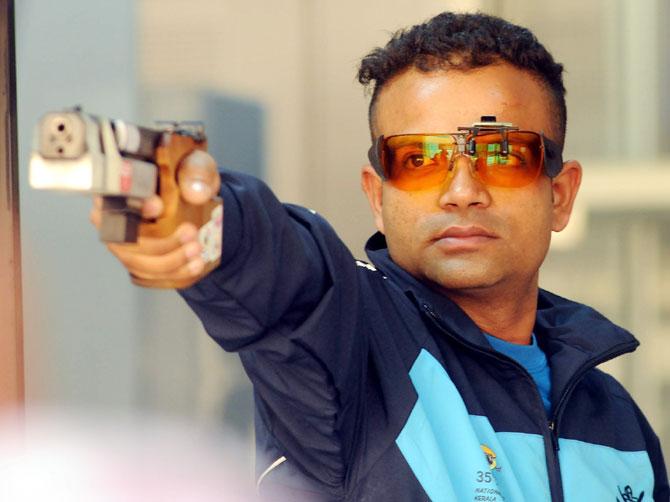 Vijay Kumar of Services en route to winning the gold medal in the 25 meters center fire pistol men at the 35th National Games in Trivandrum. Photograph: PTI
Olympic silver-medallist shooter Vijay Kumar shone bright with a golden double even as half a dozen meet records sank without a trace in the swimming pool on the third day of competitions in the 35th National Games in Thiruvanathapuram on Tuesday.
After briefly losing the top spot to Haryana, Services Sports Control Board continued to lead the medals tally with 25 medals (16 gold, 2 silver and 7 bronze), followed by the north-Indian powerhouse which tallied 24 medals (15 gold, five silver and 4 bronze). Maharashtra were third despite a higher medal count of 30 on account of 9 gold, 15 silver and six bronze.
Vijay, who won the team silver in last year's Asian Games, was in ominous form as he grabbed both the individual team gold for Services in the men's 25m center fire pistol competition. Vijay shot a score of 583 in the individual competition before Services also finished on top in the team event with a score of 1733.
Himachal Pradesh veteran Samresh Jung (576) and Services' Pemba Tamang, part of the silver-winning Asiad team, settled for the silver and bronze medals respectively in the individual competition.
The shooting range was witness to some unlikely medallists with Kerala getting their first National Games gold-medallist in the sport through Elizabeth Koshy, who upstaged a field comprising, among others, former world champion Tejaswini Sawant, to come out trumps in the 50m women's Rifle Prone event.
Koshy shot a score of 618.5 and was followed by Haryana's Meena Kumari (617.8) and West Bengal's Kuheli Ganguli (616.6) in the second and third position respectively. In the men's 50m rifle prone event, Services' Chain Singh Manhas left the likes of Joydeep Karmakar (West Bengal) and Sanjeev Rajput (Haryana) behind to snatch the gold medal with a score of 205.8. Madhya Pradesh's Samsher Singh Bhandari (204.6) grabbed the silver ahead of Karmakar, who shot a rather disappointing score of 183.1 to fetch a bronze.
In trap and skeet shooting events in Thrissur, World Cup gold-medallist Manavjit Sandhu, representing Punjab, was a surprise bronze-medallist with a score of 25 in men's trap finals as Uttar Pradesh bagged both gold and silver. Anirudh Singh was the gold winner, totalling 26, while Anwer Sultan
settled for the silver after beating Manavjit in a shoot-off, necessitated by tied scores between the two marksmen.
But once again, the most exciting action took place at the swimming venue where six meet records were shattered. Former Asian Games bronze-medallist Virdhawal Khade bettered the 50m freestyle record that he set in the previous Games by 0.08 seconds after finishing the race in 23 seconds.
Another meet record sank when Madhya Pradesh's Richa Mishra bettered her own women's 400m individual medley mark set in 2011. Gujarat sensation Maana Patel, 15, then created a new meet record in the 200m women's backstroke race by clocking 2:23.03sec, bettering her own mark.