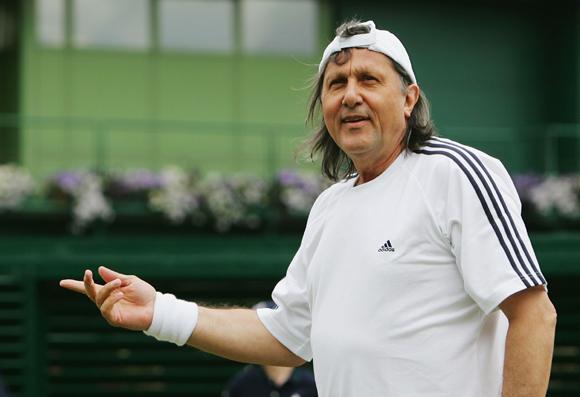 Romania Fed Cup captain Ilie Nastase was provisionally suspended from all International Tennis Federation (ITF) events on Sunday after being thrown out of the tie against Britain for verbally abusing opposing team members and the umpire.
The 70-year-old former French and US Open champion, who earned a reputation for controversial behaviour during his playing days, was excluded from the tie on Saturday for unsportsmanlike conduct.
Nastase had already run into trouble during the World Group II playoff tie in Constanta, Romania, after allegedly making a derogatory comment about American world number two Serena Williams's unborn child.
"Under the terms of the provisional suspension, Nastase may not participate in the Fed Cup in any capacity with immediate effect and shall be denied access to, and accreditation for, any ITF event including Fed Cup," the ITF said in a statement on Sunday.
The sport's governing body said it was continuing an investigation into the weekend's events and would make no further comment until that was completed.
Saturday's second singles rubber was briefly suspended with British world number seven Johanna Konta in tears, apparently because of remarks made by Nastase.
Konta recovered her composure to finish off a victory over Romania's Sorana Cirstea and level the tie at 1-1.
Britain's captain Anne Keothavong also said she was made to feel uncomfortable by comments made by Nastase at the official pre-match dinner.
Konta and Heather Watson both lost on Sunday to give Romania victory in the playoff.
At the draw for the tie on Friday, Nastase was heard speaking in Romanian to one of his team members about 23-times grand-slam champion Williams's baby.
"Let's see what colour it has. Chocolate with milk?" he was quoted by Romanian and some British media as saying.
Williams, who confirmed her pregnancy through a spokeswoman last week, is engaged to Reddit co-founder Alexis Ohanian, who is white.
Konta, who was beaten 6-1, 6-3 by Simona Halep on Sunday, defended herself after Cirstea said she had "over-reacted" by crying in their match.
"With all due respect to Sorana, she was not in my shoes at that end of the court being verbally threatened," Konta was quoted as saying by British media.
"Any abuse is not all right but when it's a couple of metres away from you, screaming at you, I think that's a different ball game. It's not something that you truly know how it affects you until you experience it, so I do believe she may have been slightly unaware of the events that happened."
Irina-Camelia Begu saw off Watson with a 6-4, 7-5 victory to seal the tie for the Romanians before the doubles.
The visitors gained a consolation win when Laura Robson and Jocelyn Rae beat Halep and Monica Niculescu 6-3 1-6 10-8 in the doubles dead rubber.
Image: Ilie Natase
Photograph: Getty Images