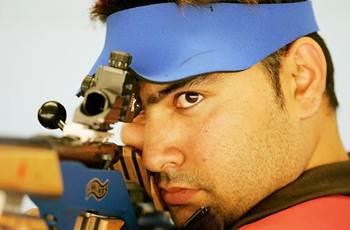 Olympic gold medallist Abhinav Bindra made the cut, but London Games bronze winner Gagan Narang failed to qualify in the 10-metre air rifle event for the upcoming Commonwealth Games.
Narang, who bagged a bronze at the 2012 London Olympics in 10-metre air rifle, missed out on a place as his last six scores were not good enough. The last scores included the ones recorded in World Cups, National Championships and national trials.
"That is the criteria for selecting teams," National Rifle Association of India secretary Rajiv Bhatia said.
The Hyderabad-based ace shooter, who won four gold medals in the 2010 Delhi Commonwealth Games, will, however, compete in two other events.
The selection committee of the NRAI picked the rifle and pistol teams for the quadrennial multi-sporting event, in Glasgow, from July 23 to August 3.
The shotgun team for Games will be selected after the World Cup in Almaty, Bhatia said.
Army shooter Vijay Kumar, who won a silver in the 2012 London Olympics, will compete in his pet event -- men's 25-metre rapid fire pistol.
Narang, a multiple medallists at the Commonwealth Games, Asian Games and World Cup, will represent India at Glasgow in the men's 50-metre 3-position rifle and 50-metre prone alongside Sanjeev Rajput and Joydeep Karmakar, respectively.
Bindra, though, will be taking part in his pet event.
"Seems like I'm headed to my fifth commonwealth games. Have to say I'm as kicked about the fact like I was for my first :-)," Bindra, India's only individual gold winner in the Olympics, had posted on Twitter on Thursday.
World No 1 Heena Sidhu will lead the Indian women's challenge in the pistol and rifle events alongside Lajja Gauswami and a host of other promising shooters.
The 24-year-old Heena recently attained the top spot in women's 10-meter air pistol after winning back-to-back medals -- a gold at the Asian Air Gun Championship in Kuwait, followed by a silver at ISSF Rifle/Pistol World Cup in Fort Benning, USA, last month.
Commonwealth Games squad for Rifle and Pistol events:
10m air rifle (men): Abhinav Bindra, Ravi Kumar
50m 3-position rifle (men): Gagan Narang, Sanjeev Rajput
50m prone (men): Gagan Narang, Joydeep Karmakar
25m rapidfire pistol (men): Vijay Kumar, Harpreet Singh
10m air pistol (men): P N Prakash, Om Prakash
50m 3-position (women): Lajja Gauswami, Elizabeth Susan Koshy
50m prone (women): Lajja Gauswami, Meena Kumari
10m air rifle (women): Ayonika Paul, Apurvi Chandela
25m sports pistol (women): Rahi Sarnobat, Anisa Sayyed
10m air pistol (women): Heena Sidhu, Malaika Goel.
Image: Gagan Narang