With the men's squash team clinching a silver medal, after losing to Malaysia in the final, India ended its campaign in the second Asian Youth Games in Nanjing, China, in tenth place with an impressive tally of 14 medals (3 gold, 4 silver and 7 bronze).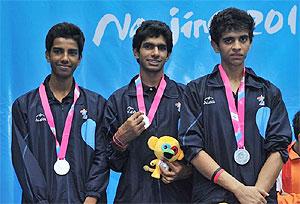 India's gold medals in the multi-sporting event came from Manu Gandas (golf), Anjana Dhavalu Thamake (athletics) and squash player Kush Kumar, who won the men's singles event.
But his good showing failed to rub-off on his teammates on Friday, as India's squash trio of Madhav Yogesh Dhingra, Kush and Vijay Meena lost 1-2 to the Malaysians in a hard-fought men's team event final.
Vijay Meena was the first to take the court against Yow Eain at the OSC Squash Hall and the contest turned out to be an exciting clash.
Both were in no mood to concede easy points and engaged in long rallies and delicate drop shots.
Eain took the first two games before Meena made a comeback to level the scoreline at 2-2.
In the decider, the lanky Indian started off well and reeled off seven straight points to make it 7-1. He kept up the momentum and put on display some fine forehand cross-court shots to win the contest 5-11, 7-11, 11-9, 11-6 11-5 in a battle that lasted over an hour.
India's gold medallist in the individual even, Kush Kumar, could not repeat his feat and was humbled by Mohammad Syafiq 2-3 in another hard-fought contest.
Kush lost 4-11, 11-7, 3-11, 12-10, 6-11 in 55 minutes.
In the third and final match, Yogesh Madhav Dhingra failed to provide any resistance to Lunn Ti Chan and lost 1-3 in 37 minutes.
Image: India's silver-medal winning squash trio of Madhav Yogesh Dhingra, Kush Kumar and Vijay Meena on the podium
Photograph: Xinhua/Fan Minda/Asian Youth Games