Thokhom Nanao Singh (49kg) and Dilbag Singh (69kg) gave a flying start to India's campaign by entering the semi-finals to assure themselves of medals at the Khabarovsk International Boxing Tournament in Khabarovsk, Russia.
Reigning national champion and National Games gold-medallist Nanao was in fine form as he devoured Ladon Rogen of the Philippines in what turned out to be a one-sided contest.
The 22-year-old, with his combination punches and excellent ring movement, made it if very difficult for the Philippines boxer to settle down and find his rhythm.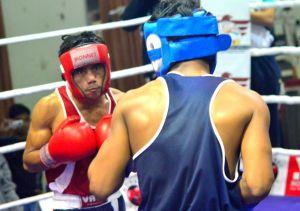 The Indian went on to make a place in the semi-finals with a 12-8 win. In the round of four, he will take on Ri Chung Hyok of DPR Korea.
Later, multiple-time national champion and 2010 Commonwealth Games bronze-medallist Dilbag Singh (69kg) delivered a superlative performance against Szilvai Laszlo of Hungary.
He emerged victorious with a score of 17-6, relying mostly on his straight punches and counter-attacks.