Russia's Nadia Petrova thrashed top-seeded Dane Caroline Wozniacki 6-2, 6-1 on Sunday to secure her maiden Tournament of Champions trophy and a 13th career title.
-Sania feels honoured to partner Bob Bryan
It was the 30-year-old's third tournament victory of the year after winning a Wimbledon warm-up event in Den Bosch, Netherlands and the Pan Pacific Open in Tokyo in September.
-Bhupathi-Bopanna clinch Paris Masters title
"It's a great way to finish the season," Petrova said after receiving the trophy.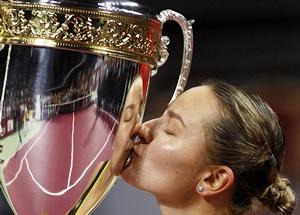 Winning the season-ending WTA event at the Armeets Arena in Sofia earned second seed Petrova a cheque for $270,000 and helped her rise one place in the world rankings to 12th.
Petrova, competing in the tournament for the second time after reaching the semi-finals last year, broke Wozniacki twice in the opening set to take command.
Wozniacki, watched by golfing boyfriend Rory McIlroy, then received medical treatment on her left calf but she was powerless to stop Petrova who produced some superb tennis in the second set.
The Russian looked much fresher despite having gone through an exhausting semi-final against Italian Roberta Vinci on Saturday.
"Yesterday I felt awful, I finished so late," said Petrova. "I didn't think I'd have enough time to recover but I did all the right things and woke up feeling good.
"I knew this was the last one and that I just had to give everything I had left. I had some long matches before this so I had to keep this one to two sets."
Wozniacki began 2012 as the World No. 1 but endured a mediocre season and had to wait until September to land her first trophy of the year at the Korea Open.
The Dane then won the Kremlin Cup in October.
"My injury wasn't the main reason for my loss today," said Wozniacki. "I tried to show my best tennis but Nadia was very strong.
"She served excellently and didn't give me a chance. In the second set I tried to force her to move more but I was rushing with my shots and made a lot of mistakes."
It was the first time the Tournament of Champions was held in Sofia, having been relocated from Bali where it was staged for the previous three years.
Photograph: Stoyan Nenov/Reuters