Eight-time champion Rafael Nadal will lock horns with World No 1 Novak Djokovic for third time in the Monte Carlo Masters final after both sailed through their semi-finals with relative ease on Saturday.
Nadal was given a fight by Frenchman Jo-Wilfried Tsonga before the Spaniard won 6-3, 7-6 but Djokovic was dominant in a 6-2, 6-1 thrashing of Italian showman Fabio Fognini.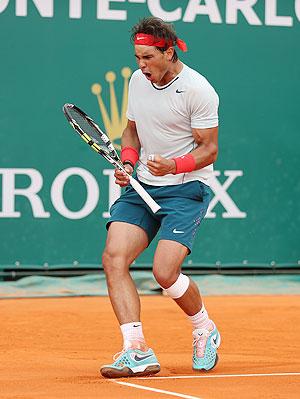 Former World No 1 Nadal, looking for his fourth title of the year in only his fifth event since returning from a long-standing knee injury, clinched a 46th consecutive victory at the traditional claycourt event alongside the Mediterranean.
The final against Djokovic will give a further measure of Nadal's physical power as he eyes the French Open, especially as the Serb is showing no obvious signs of being worried by the ankle he twisted while on Davis Cup duty two weeks ago.
"It's fantastic to be in a fifth final in a row after seven months out," Nadal told reporters.
"Novak always pushes you to the limits."
Djokovic, who has branded Nadal "the ultimate challenge on clay", will hope to improve on his previous Monte Carlo finals against Nadal. He was beaten 6-3 6-1 in the final last year and in three sets in 2009.
Nadal set up a 16th tournament final against Djokovic despite a wobble from 5-1 up in the second set when Tsonga produced a late surge to make a match of it.
Neither the cold wind gusting off the sea, nor the inconsistent Tsonga managed to upset a solid Nadal, who has made the Centre Court stage his own since 2005.
Sixth seed Tsonga made too many mistakes from the baseline as Nadal took a stranglehold on the match.
However, a change of tactics when he began charging the net briefly unsettled Nadal to the delight of the previously subdued French crowd.
He attacked in waves and saved four match points to force a tiebreak before running out off steam and allowing Nadal to take the match and avoid a third set.
Fognini played some crowd-pleasing winners against Djokovic but was no match for the ruthless Serb who was in no mood to mess around on the centre court.
The 32nd-ranked Italian, who has enjoyed a huge support this week at a stadium located just kilometres away from his home, offered little fight and was booed off court after only 50 minutes by the restless crowd.
Photograph: Clive Brunskill/Getty Images