'I don't play doubles often. Not playing with Leander anytime soon'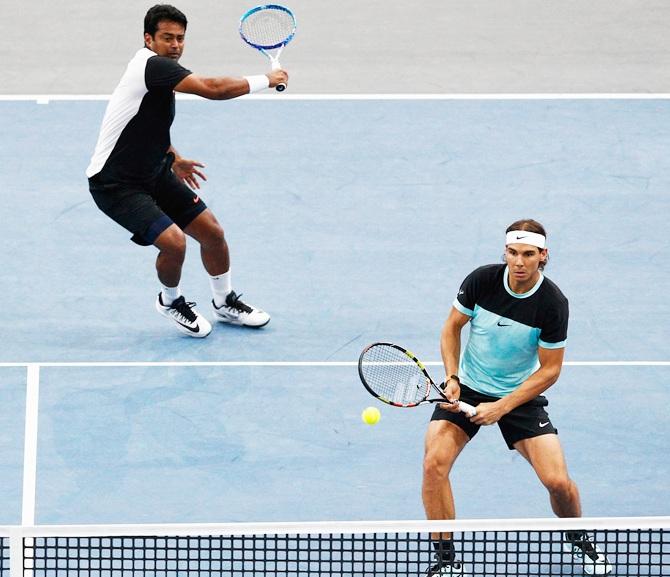 IMAGE: Spain's Rafael Nadal, right, and India's Leander Paes compete. Photograph: Dean Mouhtaropoulos/Getty Images
World No 5 Rafael Nadal has ruled out joining forces with Indian tennis great Leander Paes 'anytime soon', insisting that he is focusing entirely on the singles event.
"I don't play doubles often. Not playing with Leander anytime soon," Nadal said while announcing his association with Mahesh Bhupathi Tennis Academies (MBTA) with Rafael Nadal Academy.
Nadal became Paes' 106th doubles partner when they partnered at Paris Masters, where they failed to cross the opening hurdle.
One of the most successful professional Indian tennis players, Paes has accumulated 17 Grand Slams in the men's doubles and mixed doubles events over the last 16 years.
The 14-time Grand Slam champion Nadal, who is already running a Foundation and an academy in Anantpur city of Andhra Pradesh, said that the partnership would help them identify Indian talent and train them in the Spaniard's hometown of Manacor.
"It's a completely different thing. It will be a professional academy with a school inside to try to help kids become better tennis players. Anantapur is the centre of my foundation. We try to give opportunity to kids to live a better life. We will have gym, swimming pool, medical centre, everything that kids need to prepare for future. We are going to have right team around and right coaches at the best level possible to make the kids be involved in a right atmosphere," Nadal explained.
Nadal is currently in New Delhi to represent Indian Aces in the International Premier Tennis League.