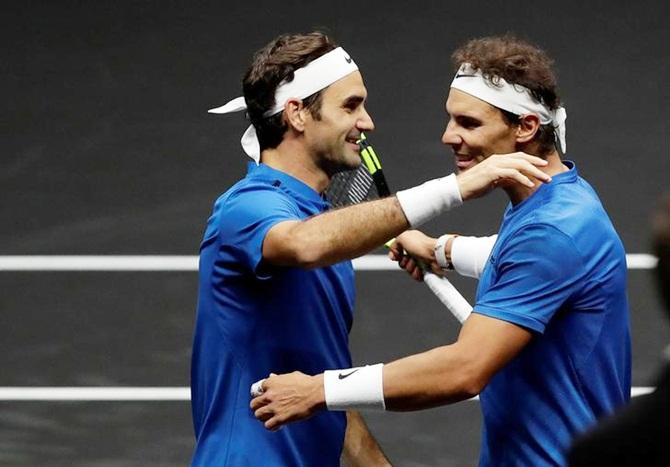 IMAGE: Rafael Nadal and Roger Federer of Team Europe celebrate beating after beating Americans Sam Querrey and Jack Sock in the weekend's headline match at the Laver Cup. Photograph: David W Cerny/Reuters
Roger Federer and Rafael Nadal took care of business in their singles matches before teaming up in an eagerly anticipated doubles pairing to extend Europe's lead over players from the rest of the world in the inaugural Laver Cup on Saturday.
The new team tennis event, kicking off in Prague and moving to the United States next year, was a first chance for the world's top two players to play competitively side by side.
Putting aside a rivalry rekindled this season after Spaniard Nadal and Swiss Federer swept all four Grand Slams, the pair outlasted and outclassed Americans Sam Querrey and Jack Sock to win 6-4, 1-6, 1-0(10-5) in the weekend's headline match.
The doubles victory put Team Europe up 9-3 going into the final day when the four matches are each worth three points.
"We will always forever be rivals as long as we are active. And after this we will be rivals again," said Federer, ranked number two in the world and holder of 19 career Grand Slam titles to top-ranked Nadal's 16.
"But this was something very special. Knowing you can trust him in the big moments, seeing his decision-making, seeing his thought process, it was very interesting."
"It was definitely a different day to other days in my life," he added.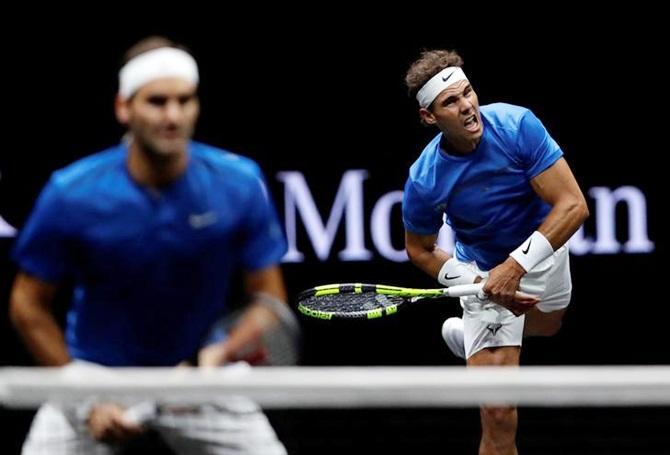 IMAGE: Rafael Nadal serves during the doubles match against Americans Sam Querrey and Jack Sock. Photograph: David W Cerny/Reuters
The Laver Cup, named after Australian tennis hero Rod Laver, is attempting to add new excitement to the sport in an already crowded calendar and was the brainchild of Federer and his sports management company Team8.
The Europeans are the clear favourites with five of the world's top seven players and have won five of the six singles matches in the first two days.
In Saturday's first match, Federer cruised through 6-4, 6-2 against world number 16 Querrey.
Nadal then glided through his first set before the hard-hitting Sock fought back to force a third set, which under the event's rules is a rapid-fire, 10-point tiebreak.
Sock, who had teamed up with Australian Nick Kyrgios on Friday to take down Nadal and Czech Tomas Berdych to get Team World's only point on the opening day, again had to claw his way out of a hole.
But Nadal kept his nerve and ended the match with a winner at the net on the sleek, black hardcourt at O2 Arena to win 6-3, 3-6, 1-0(11-9).
In the evening session, Kyrgios defeated Berdych, taking late control to win 4-6, 7-6(4), 1-0(10-6).
Nadal and Federer capped the evening with a thrilling win over Querrey and Sock, even after an early miscue almost caused Nadal to hit his partner as they both went for an overhead smash.
"We played with too much energy, so went for everything," Nadal said of the near-miss.
After Federer served to take the first set, the American pair flew through the second 6-1 with some big serves.
Two crushing winners at the net by Nadal gave him and Federer the momentum to take them easily through the tiebreak.
Despite questions over competitiveness most matches have been tight and players have shown their approval.
The Team World bench has stood out with players joking around, choreographing their celebrations after points and leading the crowd in the Mexican Wave.