Bright, all smiles and confident, India's ace badminton player Saina Nehwal met a packed house in Delhi at the launch of her first autobiography, Playing to Win.
She almost surprised a few when she candidly admitted, "I love winning more than I love playing badminton. Winning is everything!"
The book talks about her early journey in the game, and traces her struggle from a nine-year-old, who went through rigorous practice sessions alongside school.
It begins with her early childhood days in Hisar, Haryana, where she and her elder sister often accompanied their parents who used to play badminton.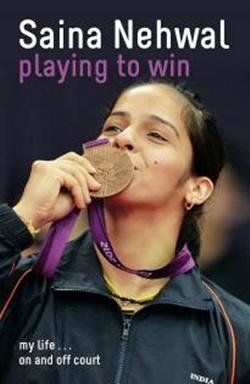 Saina says, "It is not easy to be a sportsperson and a champion. One needs to be very disciplined. Not only does the sportsperson have to make sacrifices, my parents have also sacrificed many things for me."
India cricketer Yuvraj Singh was also present at the event, but kept most of the evening focused on Playing to Win. He carefully avoided questions about Sachin Tendulkar. In fact, it was Saina who interjected and told a few media persons, "Why do you want him (Sachin Tendulkar) to retire? He is playing so well for the country. Let him play." 
The book, of a sleek 118 pages, begins with an emotional account of Saina's triumph in the final at the Commonwealth Games in 2010. After losing the first game to then world No. 16, Malaysian player Wong Mew Choo, Saina battles a nervous rally to thwart Choo's attempt to get to match-point. Eventually, she pulls off victory after winning a sensational second game 23-21, and third 21-13.
The account in the book is like reading her mind, at those crucial moments, aloud.
Saina often says she feels indebted to her mother, her father, sister Abu, Gopi sir, and many others who have played a pivotal role in refining her career.
At the launch, she made it clear that it was her mother who made her 'think like a champion.'
She recounted an interesting incident, when a still very young Saina asks her mother: 'What is the difference between me and World No. 1?'
As Saina read out these passages from the book, it was revealed that her mother did not laugh at her question, she took it very seriously, and told Saina 'what she needed to know'.
She defines Gopi sir (her coach, a former All-England champion, for the longest duration) with a 'Buddha-like patience and temper'.
She says she has been often questioned if she misses having a 'normal life', which, assumingly, involves going to birthday parties of friends, having regular classes at school and so on. To which she answers, and says, 'no'.
Saina lays out her training schedule, a mix of stamina-building and practice sessions. She talks of her 'yearly itinerary', that is, the number of matches and tournaments she plays each year.
She says, "When one is playing matches almost every month, injuries are bound to follow."
She explained how she has had to cope with strained ankles at a few matches.
Interestingly, Saina also revealed that she was suffering from viral fever just before she participated in the 2012 London Olympics.
She recalled, "I was down with viral fever for almost seven days, and wasn't sure of my performance because of all the antibiotics I had taken in."
She also loves gadgets and carries about 3-4 cell phones. Admittedly a big fan of tennis ace Roger Federer, Saina says she likes that he is does not lose his cool during matches. "Opponents in matches usually shout to distract you from the game. But I never pay attention to them. I just focus on my game."
In the course of the evening, she answered a host of questions: her trysts with injuries to the future of badminton in India, her biggest dream, her favorite Bollywood film and her favorite cuisine.
Her biggest dream: An Olympic gold medal.
Her favourite movie: She is a self-confessed 'Bollywood buff'. DDLJ ( Dilwala Dhulania Le Jayenge) tops her list.
Her favorite food: Aloo ke paranthe, though she also gorges on ice creams, which she says she is allowed to have only for a short while after a match is over.
When stressed: She says she usually ends up shouting at her father or talking out loud what went wrong in the match. She says she thinks about it over and over again and tries to find what was lacking in her preparation or practice.
Interests: She used to love sketching as a kid, but doesn't find time for it now.  She enjoys comics and is also very fond of Tom and Jerry.
Reading: She likes light reading or film magazines.
On the future of badminton in India: Saina feels that there is no dearth of talent in India. She feels many youngsters are taking up the sport, but India still needs many more training academies and dedicated coaches to train up-and-coming youngsters who are willing to take up the sport professionally.