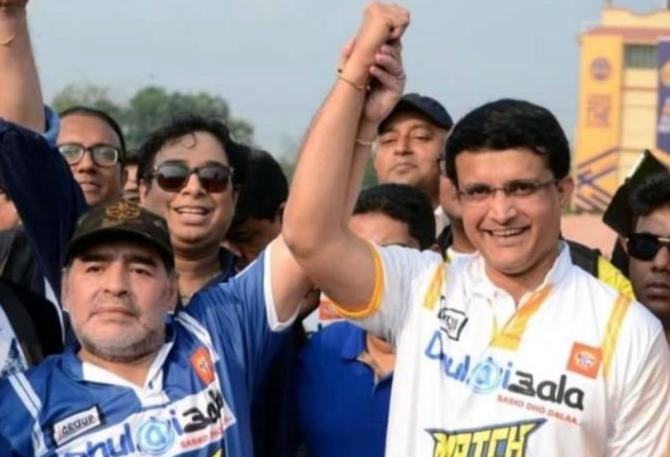 Argentine soccer legend Diego Maradona died of a heart attack on Wednesday.

Maradona, 60, had recently battled health issues and underwent emergency surgery for a subdural haematoma several weeks ago.
Maradona, regarded as one of the greatest footballers of all time, captained Argentina to the World Cup title in 1986. He played in four World Cups, scoring 34 goals in 91 appearances for his country.

He played for Boca Juniors, Napoli and Barcelona among others and was adored by millions for his brilliant skills.

BCCI president Sourav Ganguly was among the first in the Indian sporting fraternity to take to Twitter to pay his tributes to the Argentine football icon. The All India Football Federation also mourned his demise, while football clubs ATK Mohun Bagan FC and SC East Bengal were left deeply saddened by the loss.

Indian Football Team: We mourn the tragic demise of the legendary @Argentina footballing icon Diego #Maradona, who was adored by fans and football lovers across the world. RIP

I M Vijayan: RIP God of football

Sourav Ganguly: My hero no more ..my mad genius rest in peace ..I watched football for you..

Sachin Tendulkar: Football and the world of sports has lost one of its greatest players today. Rest in Peace Diego Maradona! You shall be missed.
India cricket coach Ravi Shastri: Thanks a ton for the joy and exhilarating moments you gave us during your playing days. One man who made the ball meditate on his feet. Probably the greatest to have ever graced the game of Football. God bless your soul #Maradona.
Indian cricket skipper Virat Kohli: It's obviously a very sad day for football, it's very sad for sports in general because we have lost a genius. We have lost someone who has inspired people across generations and across walks of life, not just sports but so many people in their lives as well. People are mesmerised watching him play and that's something which happens with very few and he was one of them. Pure genius with what he did and it's a void that can't be filled. Some of the football greats have already said so and I totally agree with that. I watched his documentary last year when we were there for the World Cup (in the United Kingdom) and it was amazing to see the aura and the persona around him and the stuff that he went through. Just pure genius of what he did and that's something that will be dearly remembered. He will be missed by everyone in the sports fraternity and football fraternity as well.
AIFF president Praful Patel: Argentinian football legend Diego Maradona was like a magician with the ball at his feet. Football has lost an invaluable gem today. His glorious legacy will forever have a place in football history. Rest in peace.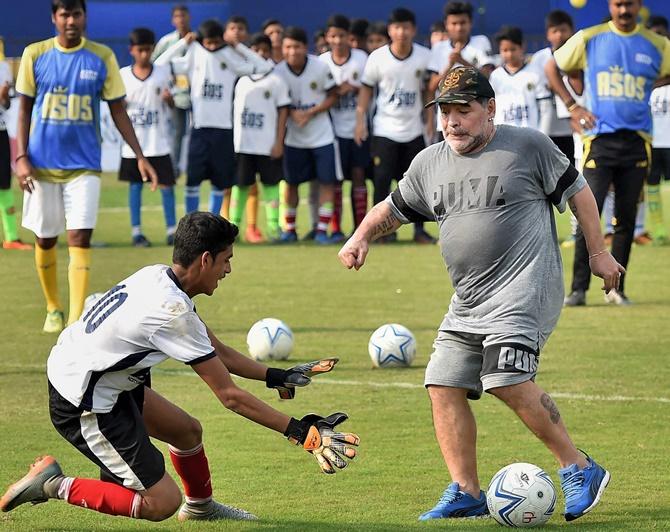 ATK Mohun Bagan FC: We are deeply saddened by the loss of an all-time great of the game, Diego Maradona. Our thoughts and prayers are with him and his family during this tough time.

SC East Bengal: Adios, Diego! One of football's all time greats leaves us behind. 1960-forever. #ChhilamAchiThakbo #JoyDiego.
Bhaichung Bhutia: He has been one of the most inspirational players for me since the time I started watching football. I've grown up watching him and wanted to be like him. It was just because of him I got up early in the morning to play in those wet and muddy grounds. I was all inspired by Maradona because I wanted to play like him. Definitely he had a big impact in my career. It's the biggest loss for world football. There will be no other big player to have played the game than Maradona in this era of world football.

Sports Minister Kiren Rijiju: There will be no another Maradona born again. He is the first Football Superstar we saw live in television. I couldn't see the live game of great Pele and mesmerizing Garrincha playing but I'm extremely lucky to see the live magic of MARADONA! RIP "God of Football".

Virender Sehwag: Arguably one of the greatest sportsman of all time. Saddened to hear about the passing away of the great Diego Maradona. My heartfelt condolences to his family.

Irfan Pathan: In my childhood I didn't follow football much but definitely knew who #Maradona was. RIP legend...

VVS Laxman: One of the greatest icons of the game Diego Maradona passes away, a very sad day for World sports. Condolences to his family, friends and well-wishers.

Viren Rasquinha: I was too young to watch the 1986 World Cup when he singlehandedly helped Argentina lift the World Cup. I started watching in 1990 when his brilliance was waning. But truly a LEGEND, one of the greatest of all time. RIP DIEGO MARADONA. Thank you for all the memories & madness

People said it was the 'Hand of God'. Bloody hell, Maradona himself said that. But it was actually that left foot....that genius left foot that was truly blessed by all the Gods above.