World silver medallist Emmanuel Mutai set a men's course record in the men's London marathon on Sunday to complete a Kenyan double on a fine spring morning.
Mutai clocked two hours four minutes 40 seconds to break the previous mark of 2:05:10 set by compatriot Sammy Wanjiru two years ago. He is now the fourth fastest man in history.
Mary Keitany, the world half-marathon record holder, broke from the field at the halfway stage to win the women's race in 2:19:19.
Keitany, 29, is now equal with German Irina Mikitenko as the fourth fastest woman ever after finishing third in her marathon debut in New York last year.
The only previous Kenyan double in London was in 2004 when Evans Rutto won the men's race and Margaret Okayo finished first in the women's.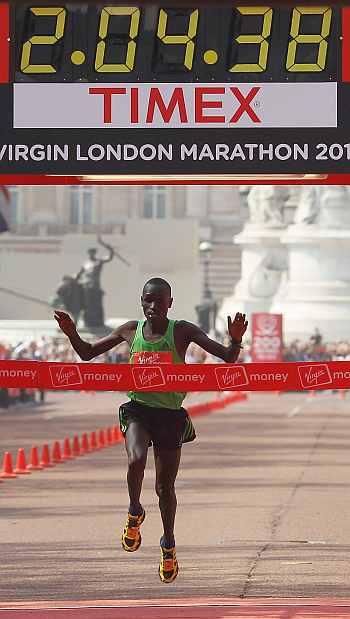 Mutai, 26, was prominent in a tightly bunched leading group tracking the two pacemakers until the 30 kms mark when he made his move.
The race quickly resolved into a battle for the minor placings with three times champion Martin Lel outsprinting fellow-Kenyan Patrick Makau to take second place. Both men were given the same time of 2:05:45.
"My dream has come true," Mutai, who finished second last year, said. "Between 36 and 38 kms it was a little difficult but I just tried to push it and in the end I managed it," he added.
Defending champion Liliya Shobukhova headed the leading group in the first half of the women's race but could not respond when Keitany, who has won six successive half-marathons, made the decisive break.
"I didn't surprise myself," Keitany said.
"The weather was very nice and I am very happy to have won the marathon today," she added.
Shobukhova was unable to respond, although her time of 1:20:15 broke the Russian record by 10 seconds and is the fastest by a European since Mikitenko's 2:19:19 in Berlin in 2008.
"I am very happy because I broke the record but obviously disappointed to come in second," she said.
Photograph: Getty Images