Defending champion Geoffrey Mutai and Priscah Jeptoo won the men's and women's races at the New York City Marathon on Sunday for a Kenyan sweep in chilly, windy conditions through the city's five boroughs.
After last year's race was cancelled due to damage inflicted on the city by Superstorm Sandy, the race marked a triumphant return as a record 50,740 runners started from the Verrazano-NarrowsBridge that connects Staten Island to Brooklyn.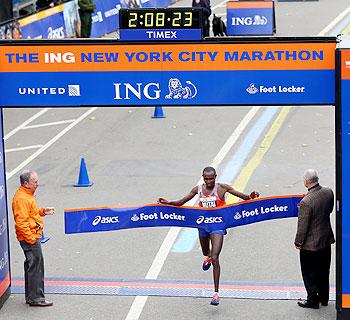 Jeptoo overtook front-running Ethiopian Buzunesh Deba with about two miles to go to win going away in two hours, 25 minutes and seven seconds and claim a huge payday in a race that began in 46 degrees F (8 Centigrade) with winds of 17 mph (27 kph).
London Marathon winner Jeptoo trailed 2011 New York runner-up Deba, who lives and trains in the Big Apple, by nearly four minutes before shifting into catch-up mode from the 16-mile mark to reel in her rival, who suffered from stomach cramping during the race.
The win brought Jeptoo a World Marathon Majors bonus of $500,000 in addition to the New York prize of $100,000.
"This is a great moment for me, and this is a day I will not forget for the rest of my life," said Jeptoo.
Deba finished second, 49 seconds back, in a race run under tight security in the aftermath of April's Boston Marathon bombings with twice NYC winner Jelena Prokopcuka, 37, of Latvia third.
SHIFTS GEARS
Jeptoo said she realized she had to move into a faster gear when someone on a bicycle told her she was more than three minutes off the pace.
The Kenyan left the trailing pack on her own and chased down Deba, who was running alongside training partner Tigist Tufa Demisse.
"So I push alone so much, and you know it was very cold wind," Jeptoo said. "But I try to persevere because I knew that I had trained a lot and had nothing to fear."
Mutai had to wait an extra year to defend his title from 2011, but the 2011 Boston winner showed he had not lost his edge as he hit the Central Park finish 52 seconds ahead of Tsegaye Kebede of Ethiopia.
"Today was a very tough race," said 32-year-old Mutai, who finished in 2:08:24. "To win a race for the first time is easy. To defend your title is not easy.
"I think this makes me more famous in Kenya."
In third place was Lusapho April of South Africa in 2:09:45.
Kebede had reason to smile, however, as his second-place finish allowed him to clinch the men's $500,000 World Marathon Majors bonus prize after twice being runner-up.
"You know, it is not easy to win World Marathon Majors," said Kebede. "This is my dream. I'm very happy. I'm glad to get to this point."
Mutai broke away with compatriot Stanley Biwott from a pack of eight that had been bunched at the head of the men's field in Mile 20, then struck out on his own for the victory.
"When I was at 20 miles, I was getting a calf problem," Kebede said. "Because of that, I'm not continuing with them."
Biwott finished fifth in 2:10:41.
"The course today, the weather today, it was not easy," said Mutai. "Even for me, I try all that I can but even I was not believing that I can finish like that.
"So actually, it says a lot for me to defend my title."
Tatyana McFadden completed a sweep of major marathon women's wheelchair titles, winning her second New York City race in addition to this year's victories in Chicago, Boston and London.
Marcel Hug of Switzerland won the men's wheelchair race.
Image: Geoffrey Mutai of Kenya crosses the finish line in Central Park to win the 2013 New York City Marathon on Sunday
Photograph: Elsa/Getty Images