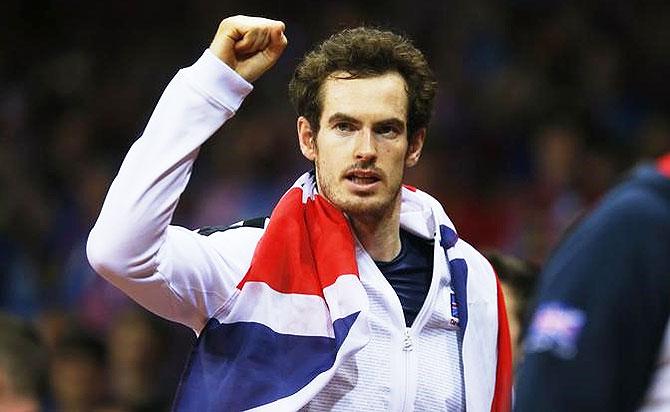 IMAGE: Great Britain's Andy Murray celebrates after beating Belgium's David Goffin to win the Davis Cup final in Ghent. Photograph: Jason Cairnduff Livepic/Action Images via Reuters.
World number two Andy Murray is planning to participate in the forthcoming Rio Olympics in order to defend his Olympic gold medal despite growing concerns over the rapid spread of Zika virus in Brazil.
Earlier, in an open letter to the World Health Organization (WHO), a total of 150 health experts had said that the current plans for the prestigious event need to be revised while citing several scientific studies that revealed the adverse effects of the virus.
The WHO, however, turned down calls to move the Olympics venue, saying that moving the games would "not significantly alter" the spread of the virus.
Murray, however, would head into the tournament after taking appropriate guidance from the Foreign Office and the British Olympic Association about the danger that the virus poses, the Guardian reported.
Meanwhile, the International Tennis Federation (ITF) president, David Haggerty, also remained optimistic that the games would go ahead smoothly.
Despite acknowledging that there would be challenges economically in the host nation, Haggerty said that the ITF would leave no stone unturned in making all the necessary arrangements for a successful Rio campaign.
Earlier this month, the WHO had advised pregnant women to avoid travelling to Rio and urged athletes and visitors to wear body-covering clothing along with a slew of other precautionary measures.
Brazil has been most affected by the mosquito-borne virus that has spread rapidly through Latin America and the Caribbean. It is known to cause the head-shrinking microcephaly and other birth defects.