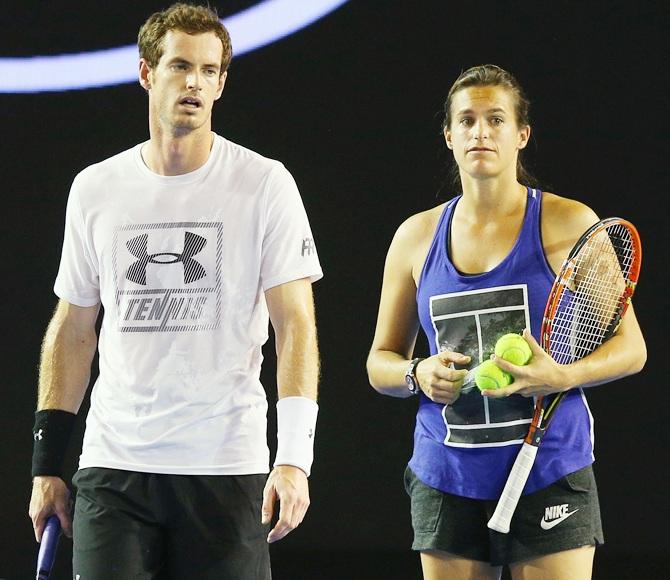 IMAGE: Great Britain's Andy Murray and coach Amelie Mauresmo at training. Photograph: Michael Dodge/Getty Images
British tennis star Andy Murray has stated he hoped his decision to part ways with Amelie Mauresmo wouldn't be seen as a failure for women coaching at the top level of the game.
Reflecting on his decision to end almost a two-year partnership with the former coach, Murray admitted his performance as well as results had improved under the guidance of Mauresmo but added that he couldn't add to his collection of Grand Slam titles.
"When she first came into the team, I was really struggling. I was not doing well. My confidence was low and I was going the wrong direction," Murray said during his pre-tournament press conference at the Internazionali BNL d'Italia in Rome.
"When she came on board, my results actually really picked up. For me, the time we spent together was positive."
The 28-year-old said his decision to split had nothing to do with Mauresmo being a woman and pointed out that it was not easy to be committed to the coaching job for a long period while delivering positive results.
"I think it gave both of us a lift, really. I think when I showed the confidence in her, she was really passionate and pumped and really wanted to make it work and me the same when she also stuck by me," Murray said.
"It was like, OK, we're going to show everyone we're a strong team... I think it was maybe my best Australian Open. I played extremely well there and came back well from how I finished [2015]."
Mauresmo, who gave birth to her first child in August and took six months off from coaching, had admitted that dedicating enough time along with the travel had been a challenge for her.
Under the tutelage of Mauresmo, Murray climbed to world number two in the rankings and had clinched his first clay-court titles last year in Munich and Madrid.
However, the British tennis maestro dropped to third following his failure to defend his Madrid crown last Sunday.
He will next compete in Rome Masters on Wednesday.