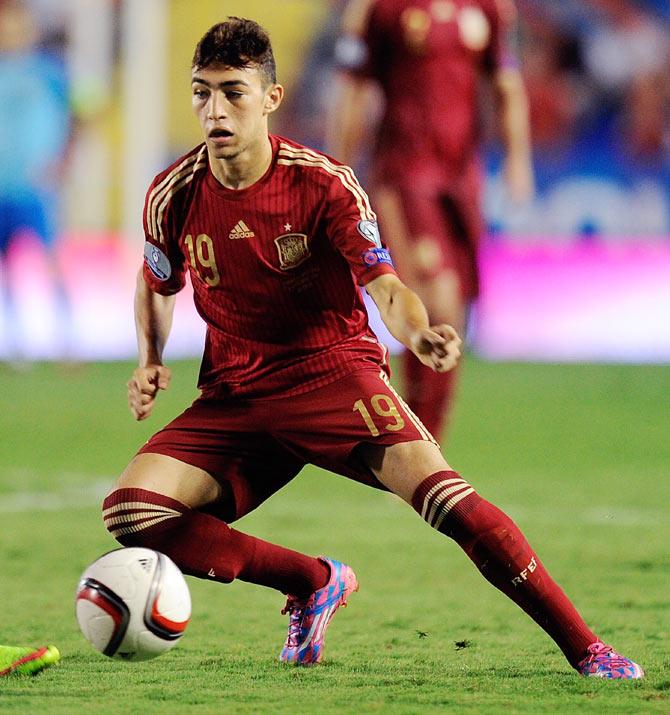 Munir El Haddadi of Spain. Denis Doyle/Getty Images
Barcelona striker Munir El Haddadi continued his dramatic rise in the game as part of a new-look Spain that have set their sights on Euro 2016 following a surprise early exit at this year's World Cup.
Munir was introduced for the final 15 minutes as Spain rediscovered their touch in front of goal with a 5-1 win over Macedonia in their first qualifying match in Group C on Monday as they bid to retain the trophy they won in 2008 and 2012.
It was another giant step for the prodigious talent that has come through Barca's famous youth academy, after he scored on his debut for the Catalan side in the opening game of the La Liga season against Elche.
His movement in the box and predatory instincts attracted the attention of Spain coach Vicente del Bosque who called him up against Macedonia as a replacement for the injured Diego Costa.
"This is a dream and I will keep this shirt," the 19-year-old later told reporters.
Munir has a Moroccan father but decided that he would rather play for Spain.
"This was my decision and I knew what I was doing. Since I was young I have played in Spain and this was my idea," he added.
"I spoke with people in Morocco and told them that I wanted to play here instead.
"Del Bosque told me that I had to be relaxed, do the things that I know how to do and enjoy the moment.
'Since I came here they have given me confidence, support and I feel very comfortable'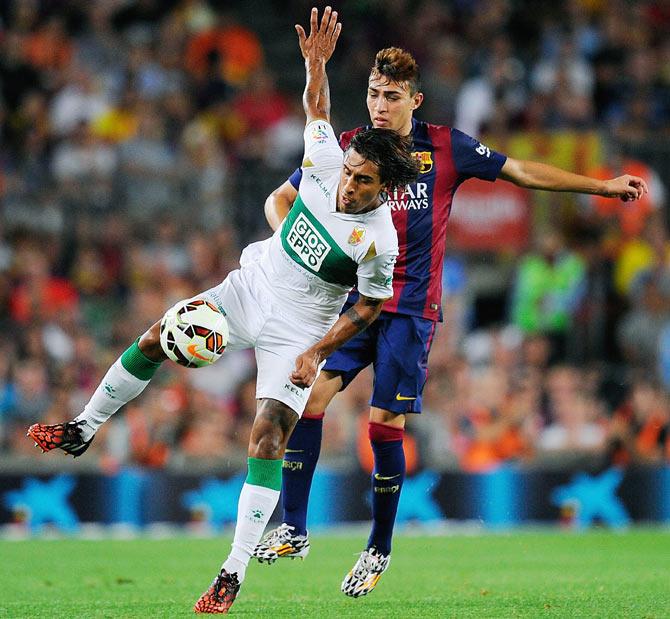 Damian Suarez (left) of Elche FC is challenged by Munir El Haddadi of FC Barcelona during their La Liga match. Denis Doyle/Getty Images
"Now I have to keep going and work hard at Barcelona. I know at the moment my place is in the (Spain) U-21 team but I will fight so that I have another chance in the first team.
"Since I came here they have given me confidence, support and I feel very comfortable."
Spain are looking to rebuild having failed in their bid to retain the World Cup. They went out in the group stage with the lack of scoring prowess being a major problem.
This was reinforced in their friendly against France last Thursday, their first since the exit in Brazil, where they failed to hit the target once.
Since the start of the Confederations Cup in 2013, Spain had been unable to score in five of their 19 games before they met Macedonia.
Munir was one among the plenty of fresh faces in the squad facing Macedonia where they finally delivered.
Though stalwarts like Xavi, Xabi Alonso and David Villa have retired, against Macedonia the team showed their emblematic quick-passing football remained.
"We won and we scored goals which is what people wanted," David Silva told reporters.
"We are not going to alter our style because we have won a lot this way.
"We have to have the ball, it is fundamental and we also need to have depth though. It is a case of having an equilibrium.
"You have to live with the critics, it is something to be expected at this level and we are trying to do our best."