Ethiopians Girma Assefa and Koren Yal set new course records as the African nation took the men's and women's honours respectively in the eighth edition of the Mumbai Marathon on Sunday.
Assefa completed the gruelling 42.195-km run in 2 hours, 09 minutes and 54 seconds, erasing the previous record of 2:11:54 seconds, set by Kenya's Kenneth Mungara two years ago.
He was followed by compatriot Botor Segaye Wolde, who clocked 2:09:57s.
Kenya's Patrick Muriuki was third with a timing of 2:10:00s. All three were under the two-year course record of 2:11:51s.
Two-time winner and favourite John Kelai, who won at the Delhi Commonwealth Games, placed a poor sixth in 2:11:05s.
"I am happy to have won. I will come back to Mumbai again and participate in the marathon next year," the 24-year-old Assefa from Addis Ababa said after his triumph.
The men's and women's winners took home US $36,000 each.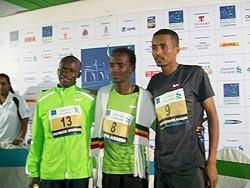 Over 38,000 people participated in the annual run, which was flagged off by Maharashtra Governor K. Sankaranarayanan amid tight security from the Chhatrapati Shivaji Terminus.
The men's marathon was a close affair all the way with the lead changing regularly. Kenya's Simon Kasimili broke away from a bunch of 15 runners to take the lead early and stay ahead till around the 10-km mark at Haji Ali. But once his job of doing the early pacing was over, he let countryman Kipkemei Mutai surge ahead at the half-way mark.
From hereon it was a battle royale as Muriuki stepped up the pace and forged ahead at the end of the Bandra-Worli sea-link.
After the end of the 32-km mark, it was Wolde who broke away and snatched the lead. However, Assefa, who judged his pace to perfection, came up with a blistering burst on the home stretch to emerge a worthy winner.
The women's run saw an all-Ethiopian top-three finish as Yal clocked 2:26:56s to break the course record set by countrywoman Mulu Seboka in 2008.
Merima Mohammed was second in 2:29:04s, while Elfemesh Alemu placed third with a timing of 2:30:04s.
Jyoti Gawate of Maharashtra emerged the best Indian woman, with a timing of 3:05.30s. She was followed by last year's winner Shastri Devi of Maharashtra, who timed 3:08.15s. M Sudha of Hyderabad, who was third, clocked 3:10.52s.
The women's results had to be altered following the disqualification of Vahida Khan and Vidya Mehta, who both originally finished first and second.  
Among Indian men, the army's Lyngkhoi Binning, Angad Kumar and Ram Singh Yadav finished first, second and third respectively.
Lyngkhoi, who was the top Indian finisher in the last edition, repeated the feat in a slow timing of 2:21:16s, well off Ram Singh Yadav's course best of 2:18:03s, set in 2009.
Angad was second in 2:24:32s and their Army Sports Institute teammate Yadav, who has recovered from a hamstring injury, was still good enough to finish third in 2:25:33s.
The trio's timings though were well off the London Olympic Games qualifying mark of 2:18s, set by the Athletics Federation of India, which has not notified the Mumbai Marathon this year as part of its designated qualifying races.
The half marathon for Indian men was won by B C Tilak of ASI, Pune, in 1:04:45s. Soji Mathew (Railways, 1:05:04s) and Kheta Ram (ASI, 1:05:32s) placed second and third respectively.
In the corresponding event for women, Railways runners Priyanka Singh Patel (1:22:34s) and Sangeeta Yadav (1:23:45s) swept the top two positions, while Maharashtra's Jayashree Borge finished third in 1:24:43s.
Photograph: Bikash Mohapatra