She is yet to drop a set in Paris this year and spent only six hours on court to reach the last four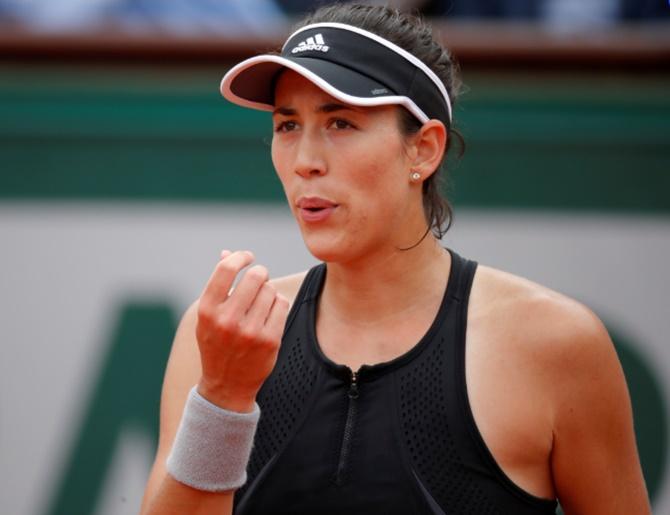 Spain's Garbine Muguruza insists she is enjoying herself at the French Open even if she doesn't look it, but don't expect her to smile too much until she gets her hands on the Suzanne Lenglen trophy for the second time in three years.
The No. 3 seed was ruthless on Wednesday as she demolished two-times former champion Maria Sharapova 6-2, 6-1 on the Philippe Chatrier Court to head into her fourth Grand Slam semi-final.
Considering she had never beaten Sharapova in three previous meetings Muguruza could have been excused some outpouring of emotion as the Russian dumped a backhand into the net on match point.
Instead there was just the smallest of fist pumps and a look that said 'job done, now on to the next one.'
Muguruza, 24, will now be favourite to reclaim the title she won two years ago by beating Serena Williams, even if top seed Simona Halep will be a formidable semi-final foe.
Asked if it was purely business, the reining Wimbledon champion snapped: "No. 'Business' is an ugly word!"
"I love playing tennis. You're probably not smiling when you're playing tennis, but I love playing on Chatrier. It's one of my favourite courts. The crowd, the big stage," she said.
"So deep inside it's a great moment, even though you're not, you know, smiling out there."
She is yet to drop a set in Paris this year and spent only six hours on court to reach the last four.
Sharapova, 31, was supposed to provide her first real test but Muguruza swatted away the Russian with contemptuous ease.
While Sharapova's 27 unforced errors, including six double faults, makes ugly reading - many of them were as a result of the pressure building from the other side of the net where Muguruza's heavier shots left her opponent huffing and puffing from the word go.
"I knew it was going to be an intense match, because I hadn't played her for a long time. I knew she was a difficult player," Muguruza, who was beaten by Sharapova in the quarter finals in 2014, said.
There was only one lapse, a dropped service game early in the second set, but Muguruza barely flinched before reeling off the next five games for the loss of six points.
"I wasn't thinking so much about the result, but I just was thinking about not dropping my level, not giving her a single point, and I guess that helped my performance," she said.
"When you play and you win against an 'old-time' player with a lot of experience, it gives you a lot of trust."
"These matches are the way you need to travel to get to the end of the tournament."