Having returned to England after his humiliating ouster from Chelsea, it is up to Jose Mourinho to justify his appointment at Manchester United, says Bikash Mohapatra/Rediff.com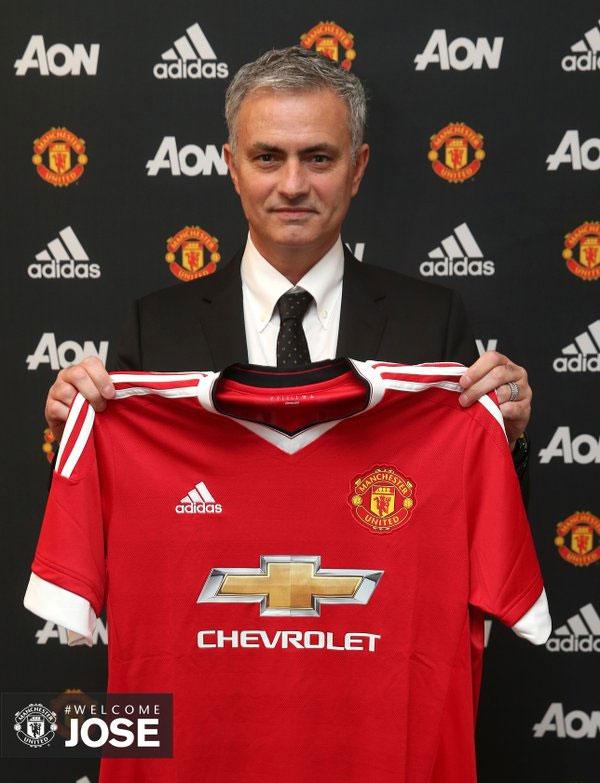 IMAGE: Jose Mourinho on his appointment as Manchester United manager, May 27, 2016. Photograph: Manchester United/Twitter
'In Portugal, we say the bigger the ship, the stronger the storm. Fortunately for me, I have always been in big ships. FC Porto was a very big ship in Portugal, Chelsea was also a big ship in England and Inter was a great ship in Italy. Now I'm at Real Madrid, which is considered the biggest ship on the planet.'
-- Jose Mourinho, speaking after his appointment as Real Madrid coach in 2010.
Even as Jose Mourinho embarks upon his new assignment as Manchester United manager, he would be wise to run a reality check.
While critics feel he is at best a stop-gap arrangement (not a permanent solution) and that he is not the right fit at Old Trafford, they admit he might help win the trophies that Man United's owners and fans crave after three relatively barren years.
But when Mourinho leaves, or is asked to leave, they warn, he will leave the club in disarray.
Mourinho, thanks to his nomadic nature -- in his career spanning a decade-and-a-half -- has never been at a club for a fourth year. His preference to only take charge of big clubs, ala Pep Guardiola, means he is running out of options about the possible destinations he could head to -- rather clubs that can afford him.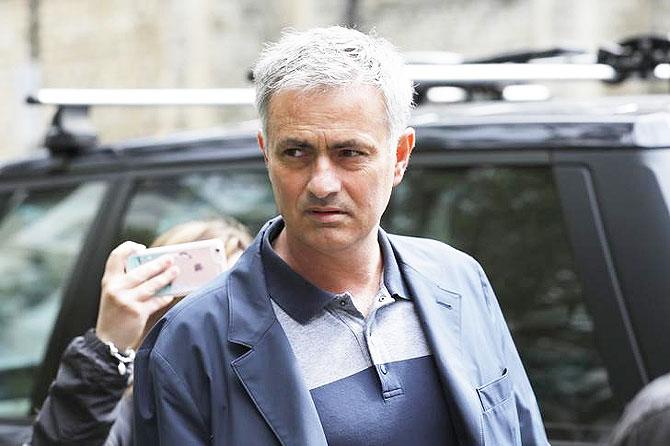 IMAGE: Mourinho has made it clear that Inter is the only Italian club that he would like to manage. Photograph: Stefan Wermuth/Reuters
And you don't exactly see the likes of Mourinho and Guardiola taking charge of a modest club, like say a Louis van Gaal (AZ Alkmaar), Diego Simeone (Atletico Madrid) or a Claudio Ranieri (Leicester City), and turning them into a championship-winning sides.
For starters, Mourinho has coached Benfica and Porto -- the two biggest clubs in his home country -- with contrasting experiences. Considering the sides he has managed thereafter, the possibility of a return to Portugal won't quite appeal to him.
The man himself has time and again said it will be difficult to coach any club in Italy other than Inter.
The Nerazzurri are at the moment in the middle of an interesting project funded by their new Indonesian owner (Erick Thohir) and helmed by Roberto Mancini, with the former repeatedly reiterating his backing for the latter.
Juventus, the only other club in Italy -- considering the grim financial situation of the sport in the country at present -- that can afford Mourinho. But Juve seem satisfied with Massimiliano Allegri, the man in charge at the moment.
Paris Saint-Germain has the money, but the lack of competition (PSG won by 31 points this season) makes Ligue 1 -- the top division in France -- an unattractive proposition for 53-year-old Mourinho.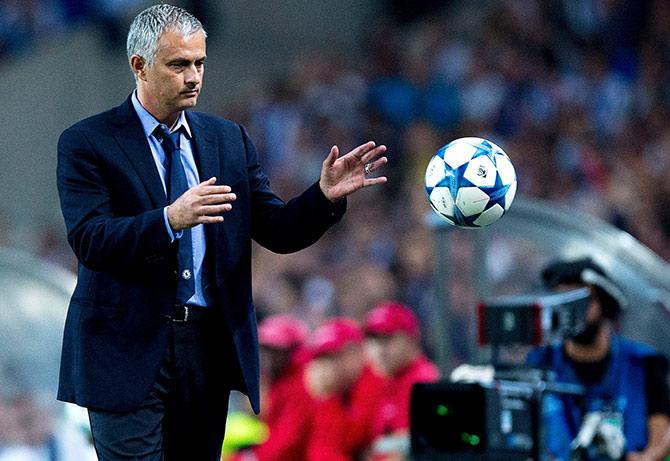 IMAGE: Mourinho has made known his averseness to coaching in Germany and the possibility of being Portugal's national team manager he has reserved for pre-retirement days. Photograph: Gonzalo Arroyo Moreno/Getty Images
The fact that Mourinho has managed Real Madrid will make a move to Barcelona difficult, if not impossible, this despite the fact that he was an assistant manager (to Louis van Gaal) at the Catalan Club for three years before taking up management full time.
'It is clear that I will end my career without having coached Barca,' he was quoted as saying after Inter defeated Barcelona 3-2 (on aggregate) in the 2009-10 Champions League semi-final.
Going back to the Santiago Bernebeu is probably an option (he did return to Chelsea, after all), but not at this stage.
Besides these two clubs, their recent success notwithstanding, no other club in Spain can afford him.
As regards the Bundesliga, Mourinho is averse to the idea.
'It's very important in my skills as a coach to know the language. To communicate with the players, to be with the press in a very comfortable way because the media are a very important part of our job. I think I wouldn't be at the top of my potential working in Germany, so it's out of my mind,' he was quoted as saying in the Sport Bild in September 2011.
A couple of years on, he reiterated his stance.
'What is certain is that I won't coach in Germany,' Mourinho told the Italian television station RAI in January 2013.
In any case, Bayern Munich, the only German club that can afford his services, has just hired a new coach, Carlo Ancelotti.
A national team is not an option at the moment as the manager himself considers the same as a retirement plan.
'The (Portugal) national team is an obsession for me, but it will be at the end of my career. Let there be no doubt about that,' he once told the News of the World newspaper.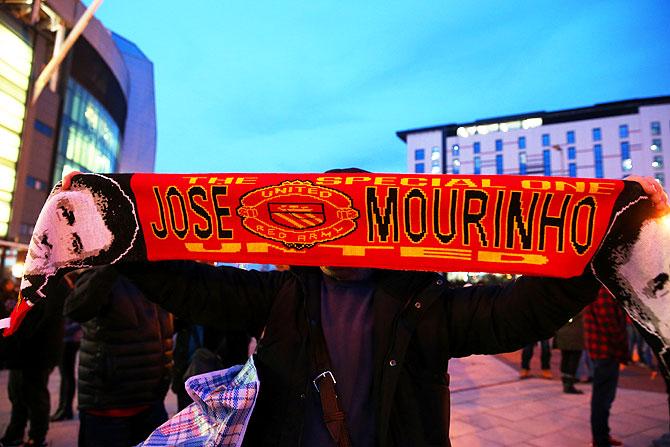 IMAGE: A fan poses with a Manchester United scarf displaying Mourinho's image and name. Photograph: Alex Livesey/Getty Images
This brings us back to the Premier League.
After two sackings, Chelsea ceases to be an option. Manchester City is taking forward their project with Guardiola at the helm.
The only other Premier League club with the ambition, and the financial resources, has just enlisted his services.
Initially sceptical, and subsequently desperate to make the appointment, Manchester's most decorated club have hopefully hired a man smart enough to understand his (limited) available career options, as also the repercussions of his performance in this particular position.
This, coupled with the fact that Mourinho has a point to prove following the humiliating end to his second spell at Stamford Bridge bode well for Manchester United.
It is up to Mourinho now to justify his appointment, prove himself all over again and leave a positive legacy at Old Trafford.
The fact he has already shown as desire to mend bridges, having made peace with one-time critic Sir Bobby Charlton, shows that the Special One has got off to a good start.