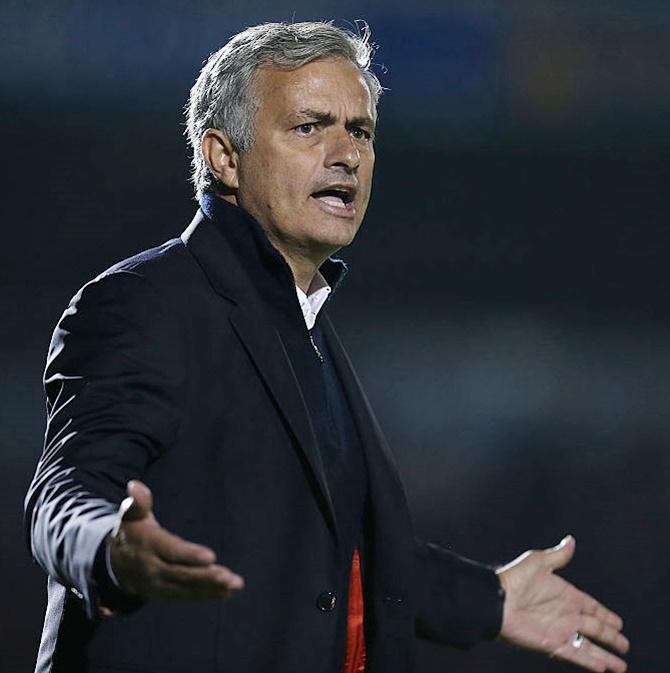 IMAGE: Manchester United manager Jose Mourinho reacts. Photograph: Pete Norton/Getty Images.
Manchester United manager Jose Mourinho refused to commit his long-term future at Old Trafford, saying he is focused on improving the team and winning the English Premier League title before the end of his three-year contract.
The 54-year-old Portuguese is nearing the halfway point of his deal and guided United to the League Cup and Europa League titles in his first season.
"I signed a three-year contract and when I signed that three-year contract it was basically to try and improve the direction of the football team," he told the Daily Mirror.
"And obviously when we want to improve the direction of the football team, it means to try and win titles which we did already last season.
"But when we speak about titles, everyone obviously thinks about the Premier League."
United, second in the league table, have made their best start in the league since the 2012-13 title-winning season under Alex Ferguson but they are eight points behind ManchesterCity.
Mourinho believes the pressure to deliver his first league title at United this season is harsh as they are facing fierce competition from City, Tottenham Hotspur, Chelsea, Arsenal and Liverpool.
"Of course, it is an objective but to say the only way we are improving is to win the Premier League is not quite fair because the other teams, the other five or six teams, have the same objectives, the same responsibility," he added.
"They have the same qualities to do it, or even more because they have the stability over the past three years."
Mourinho confirmed striker Zlatan Ibrahimovic could return to action for United before the end of the year.
The 36-year-old Swede has not played since suffering a knee ligament injury in April.
"He is a lion, he is a fighter... he has the anger all the time and that's the reason why he's almost coming back," Mourinho said.
"He's reduced the timing of his recovery and he will be back in 2017, which is a magnificent recovery."