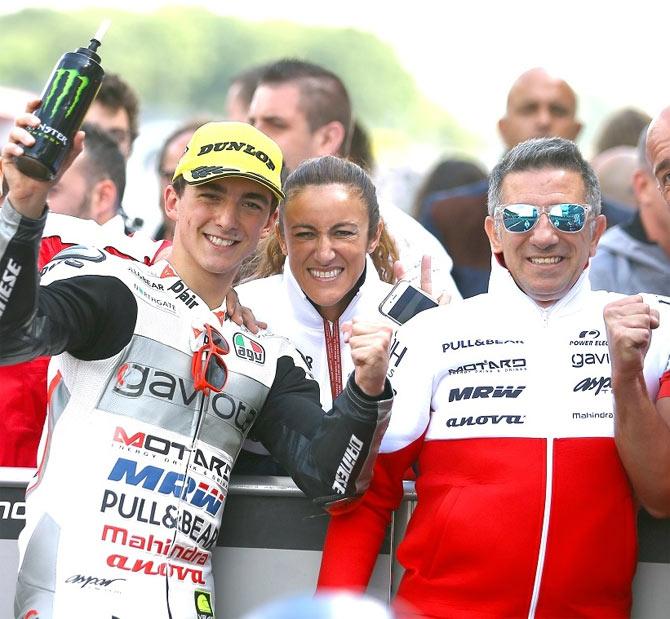 IMAGE: Francesco Bagnaia, left, celebrates with his team after winning the Moto3 race at the Dutch Grand Prix in Assen.
Italian teenager Francesco Bagnaia made history at the Dutch Grand Prix in Assen on Sunday, fighting every inch of the way to claim not only his first Grand Prix win, not only the first win for the Mahindra Moto3 team, but also the first ever in the history of the sport for an Indian constructor.

The 19-year-old Italian's triumph came after one of the fiercest races ever seen in the most competitive class in the MotoGP World Championships.

A pack at one stage 14-strong fought over centimetres of track and hundredths of a second, over the full 22 laps of the classic 4.542-km Assen TT circuit. The top three crossed the line within four hundredths of a second; the top six inside two tenths.

Bagnaia had qualified tenth, on the fourth row of the grid, but he put his white-liveried Aspar Mahindra racer at the sharp end throughout. After 99.924 km of the fiercest fighting, the 19-year-old star was ready to claim a virtual photo-finish win in a fairing-banging, paint-swapping brawl through the final chicane.

Victory came after the best season so far for the Mahindra MGP3O racing motorcycle. Bagnaia had already claimed three, top-three podium places. This first race win halfway through the 2016 season was proof positive of Mahindra Racing's hard-won progress, and the perfect reward for tireless work at the Indian company's state-of-the-art racing bike development and engineering facility in Italy.

Indian automotive and industrial giant Mahindra made a low-key start in Grand Prix racing in 2011, taking over an existing team in the final year of the old 125cc two-stroke formula. In 2012, with the advent of 250cc four-stroke Moto3 machines, Mahindra embraced full constructor status, with their own machine; and in 2013 launched the all-new MGP3O.

Dedicated development saw the Mahindra gain strength to become a regular top ten and then top-three challenger, en route toward their first race win.

Mahindra Group Chairman Anand Mahindra had launched the project in 2010 with the words: "The Indians are coming." And today when the Indian industrialist's prediction came true at the most classic circuit on the calendar, he responded within minutes on social media: "How do I explain my emotions? Sorry for being a wimp, but I am moved to tears. Triumph over so many hurdles and scepticism."

Victory moved Bagnaia up to fourth in the championship, just four points away from third.

Second team rider Jorge Martin withdrew on the first day, hand injuries sustained three weeks ago at the Catalunya GP not sufficiently healed to allow a safe race. His place was taken by fellow-Spaniard Alberto Arenas (19).

The next race is the German GP at the Sachsenring in three weeks.