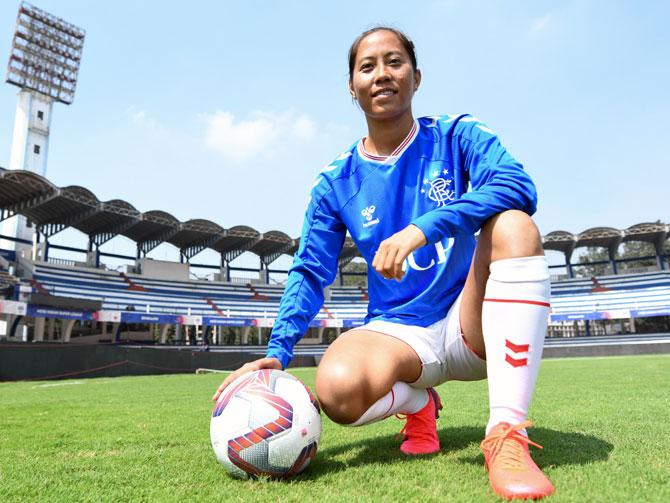 Indian women's football team goalkeeper Aditi Chauhan feels that with the growth in profile of the game in the country, more players will follow the footsteps of trailblazer Bala Devi, venturing out of the country in search of a professional career.
Women's football is expected to get a boost with India hosting the FIFA U-17 World Cup next year and the AFC Asian Cup in 2022.
Aditi said more girls will emulate national team striker Devi, who last year became the first Indian woman to play in a top flight professional league in Europe. She now plays in Scottish Premier League with Glasgow-based Rangers.
"There is so much potential in India. I want more girls to get such exposures, and learn from playing against better opponents. With more avenues for younger girls coming up, I am sure there will be others who will follow in Bala's footsteps," Chauhan said.
"Bala is a gem of a player and her move to Rangers is amazing," she was quoted as saying in an AIFF release.
The 27-year-old Chauhan herself had played in England for London-based West Ham Ladies between 2015 and 2018, though not in the top-tier league, when she was pursuing her studies in the UK.
"The standard of play, the culture is so different. It's a total professional set-up in Europe. The experience which she will gain will benefit not just her (Devi), but Indian football in general," she said.
"Whenever she comes back to play for the National Team, we'd eagerly wait to hear about her experiences. I am sure she'll love to share all of that – especially with the U-17 girls. Her knowledge will matter a lot shaping the career of younger girls."
Chauhan, who has earned 15 caps for the country since making debut in 2012, also said women's football has now become more pan-Indian and gone are the day when the Manipuri players completely dominated the national team.
"When I first started playing for the national team, it was majorly dominated by players from Manipur. But it has become more of a diverse team now. The team now has a pan Indian representation.
"The competition for places in the team has grown – everyone is pushing each other. No one is comfortable as there are new kids coming from all over and securing slots in the squad. That's how the team has grown, and the results have come out so well."
Indian footballers can flourish with more exposure: Cahill
Former Australia and Jamshedpur FC striker Tim Cahill believes Indian football's young talents can flourish with systematic exposure at the top level.
Cahill, who brought his sterling career to an end following his stint with the Jamshedpur-based side in the 2018-19 season of the Indian Super League (ISL), said his experience convinced him that India has what it takes to excel on the continental and world stages.
"Indian talents just need more games, get them playing all the time and competing and when they go into international fixtures, you (will) see that they can handle the pressure," Cahill was quoted as saying by 'Star Sports Football United' according to the Asian Football Federation website.
The 40-year-old said India is moving towards the right direction to achieve greater heights.
"The ISL and the leagues that are being played with its infrastructure are great and the only thing that the game needs more than anything is unity.
"Everyone is flowing in the same direction to get to that one goal - which is to win an AFC Asian Cup title, to reach the World Cup and help women's football and to develop your own leagues."
Cahill's spell at Jamshedpur was cut short to 11 matches due to injury but the Australian legend has fond memories of his time with The Red Miners.
"It was amazing, I lived and breathed everything and was very close to the community as well as the owners from the Tata Group," said Cahill, who had also spent eight years at English Premier League side Everton, featuring in 226 matches with 56 goals to his credit.
"One of the best things about the club was that everything we did was for our fans and everything Jamshedpur FC did was for players."
He said it was a crazy experience and he felt blessed to have been with the club.
"We were around kids and in schools where we opened up training programmes. I was asked about fundamental skills and things that I do such as projects...it was just crazy.
"We were in the middle of nowhere and we have thousands at the game. I'm very blessed to have had that kind of experience," Cahill said.