Swiss arrest two more FIFA officials in corruption scandal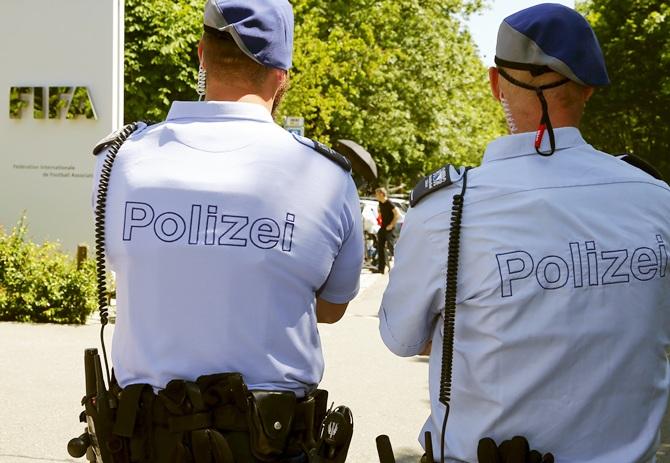 IMAGE: Swiss police officers stand in front of the entrance of the FIFA headquarters in Zurich. Photograph: Arnd Wiegmann/Reuters
Swiss police arrested the two top football bosses in the Americas on Thursday on suspicion of taking millions of dollars in bribes linked to television rights, widening a graft probe into world football's governing body.
Switzerland's Federal Office of Justice (FOJ) named the men as Alfredo Hawit of Honduras, acting president of the CONCACAF federation and a FIFA vice-president, and Juan Angel Napout of Paraguay, head of the South American football federation CONMEBOL. CONCACAF administers football in North and Central America and the Caribbean.
The officials were detained in pre-dawn raids at the behest of the US Department of Justice.
The FOJ said it would now ask the United States to submit a formal extradition request within 40 days, which both men had said they would resist.
It said they were alleged to have taken money "in return for selling marketing rights in connection with football tournaments in Latin America, as well as World Cup qualifying matches".
The raid on the Baur au Lac hotel in Zurich echoed arrests at the same place in May that plunged FIFA into crisis.
Since then, FIFA's veteran president Sepp Blatter has announced his resignation, he and other officials have been suspended, and a host of criminal probes into FIFA officials have begun, triggering huge external pressure for deep reforms.
The two arrested men, their representatives and their federations were not immediately available for comment.
The past two CONCACAF heads before Hawit have both been indicted by U.S. authorities. When he was named head of the confederation in May, he said he was "profoundly disappointed by the allegations made by authorities that again, CONCACAF has been the victim of fraud".
The avalanche of corruption allegations prompted Blatter in June to say he would resign, only days after being re-elected to a fifth term. He, his deputy Jerome Valcke and European football boss Michel Platini have all been suspended by an internal ethics watchdog. None of them has been charged with a crime, and all deny any wrongdoing.
Swiss authorities said Thursday's arrests were related to alleged offences agreed and prepared in the United States and involving payments processed by U.S. banks, which were not named.
In May, US authorities charged 14 officials and sports marketing executives with paying or taking bribes.
The New York Times said the latest action targeted current and former senior football officials on charges including racketeering, money laundering and fraud.
The Baur au Lac closed its gates after a group of four people, believed to be plainclothes police, went in around 6 a.m. (0500 GMT), a Reuters witness said.
Another group of police then went in through the rear entrance and left half an hour later. Shortly afterwards, two cars with obscured windows were seen leaving the hotel.
FIFA officials routinely use the luxury lakeside hotel and many were in Zurich for an executive committee meeting at which an internal reforms committee was presenting recommendations.