Shot putter Om Prakash Karhana and long jumper Mayookha Johny won a bronze each as India began their campaign at the 20th Asian Athletics Championships on a mixed note on a rain-marred opening day in Pune on Wednesday.

Star discus thrower Krishna Poonia finished a disappointing fourth, while another medal prospect and reigning Asian Games gold medallist Preeja Shreedharan also was fourth in women's 10,000m on a day that saw intermittent rain, affecting the performance of athletes at Shiv Chhatrapati Stadium at Balewadi.

Om Prakash, who was struggling all throughout the season, hurled the iron ball to a distance of 19.45 in his second attempt, his season's best though it was way less than his national record of 20.09m, to give India the first medal of the Championships.

Asian record holder Sultan Abdulmajeed Alheb of Saudi Arabia bagged the gold with a throw of 19.68m, which he achieved in his fifth and penultimate attempt. Season leader Chang Ming-Huang of Chinese Taipei was second with an effort of 19.61m.

This was Om Prakash's third medal in the Asian Championships. He had won a gold in 2009 in Guangzhou and bagged a bronze in 2011 in Kobe, Japan.

The Indian began well with a throw of 19.18m that put him second behind Ming-Huang after the opening round. The Indian was second after the fourth round behind Abdulmajeed but Ming-Huang produced an effort of 19.61m in the fifth round to seal the silver.

Two other Indians, Inderjeet Singh and Satyendra Singh finished fourth and eighth with throws of 19.31m and 18.01m, respectively on the opening day.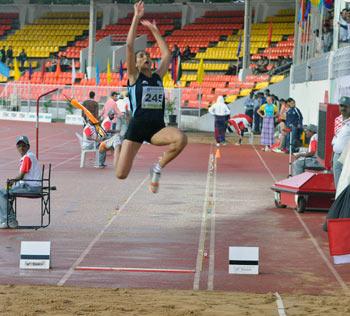 The opening day also saw organisational glitches with two scoreboards malfunctioning and results of the women's discus throw coming out more than half an hour after the event finished.
Poonia herself thought that she was third and spoke to the media at the mixed zone thinking that she at least had a podium finish only to find out later that she was fourth.

Mayookha bagged a bronze in long jump after the event was stopped mid-way due to rain only to resume later. Her bronze saved the day for India from turning out to be a disappointing one as the country suffered an embarrassment even before the Championships began.
Woman shot putter P Udaya Laxmi, who was to take part in the Championships, tested positive for banned stimulant methylhexaneamine in her 'A' sample taken during last month's National Inter-State in Chennai. She was promptly pulled out of the event and sent home by an embarrassed Athletics Federation of India.
Mayookha, who won India's lone gold in the 2011 edition in Kobe, Japan, entered the competition with a right ankle sprain and her coach had said before the event that it could effect her performance.
She began with a 6.09 meter and seemed to be picking up as she had a jump of 6.30m in her third effort. But Mayookha found the going tough and she could not improve in her next three jumps to settle for a bronze.
Japan's Sachiko Masumi won the event with an effort of 6.55m while Uzbekistan's Anastasiya Juravlyeva bagged the silver in 6.36m.
Not many expected a gold from Poonia who had been struggling throughout the season as she carried a groin injury. The Commonwealth Games gold medallist and national record holder came up with a best effort of 55.01m but that was not enough to give her a podium finish. The contest though, was a close one with all the medal winners coming up below 56 meters.
Though she had the national record of 64.74m, she had been struggling all through the season. Her season's best was 59.43m while winning a silver in the second leg of the Asian Grand Prix in Chonburi, Thailand in May.

The intermittent rain throughout the day might have played a role in the below-par performance of all the competitors as they were seen struggling to grip the iron disc besides also finding it difficult to warm themselves up.
In the women's 10,000 meter race, Preeja was not among the leaders from the beginning though she recovered some lost ground towards the end. The sparse local crowd cheering her could not spurred the Maharashtrian girl as she finished a distant fourth in 33:41.97 behind Baharain's Shitaye Eshete Habtegebrel (32:17.29), Alia Mohamed Saeed (32:39.39) of United Arab Emirates and Ayumi Hagiwara (32:47.44) of Japan.
In the men's 400m, Rajiv Arokia and Mohammad Kunhi qualified for the finals after finishing third and fourth in the semi-finals heat number two.
In the women's 400m also, medal prospect M R Poovamma and Anu Mariam Jose entered the finals after winning their respective heats with timings of 53.60 seconds and 53.66 seconds.
Image: Mayookha Johnny
© Copyright 2022 PTI. All rights reserved. Republication or redistribution of PTI content, including by framing or similar means, is expressly prohibited without the prior written consent.