Missy Franklin surprised herself by going second-quickest behind Australia's Cate Campbell with a personal best in the heats for the women's 100 metres freestyle on Thursday as the American teenager chases a fourth world championship gold of the week.
With titles in 200m freestyle, 100m backstroke and 4x100m freestyle relay already in the bag at the hilltop Palau Sant Jordi, the bubbly 18-year-old touched in a time of 53.36 seconds, just behind Campbell in the next lane in 53.24.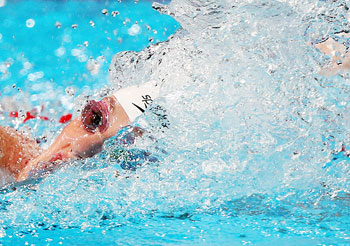 Franklin, who won four Olympic golds and a bronze last year, is aiming to make up for the disappointment of finishing fifth in the event in London in a race won by Ranomi Kromowidjojo of the Netherlands, fifth fastest in Thursday's qualifying.
"I am so happy with that time, a little bit surprised by it actually, I didn't think I was going to go that fast this morning," Franklin told reporters ahead of the semi-finals later on Thursday and Friday's final.
"I felt really great and it's always really great racing Cate Campbell," she added.
"If I can make the podium I'll be over the moon happy.
"I know I missed it last summer so that's really the goal just to make it on the podium and hopefully get a best time.
"I'll be really, really happy with a 52 if I can get one."
Germany's Britta Steffen, who set the world record of 52.07 to win the world title in Rome in 2009, was fourth quickest behind Sweden's Sarah Sjostrom and said she had not held anything back in winning her heat.
"I am going to do everything now to get into the final, that would be great but all the others can swim just as well," Steffen, Olympic gold medallist in 50 and 100 metres freestyle in Beijing in 2008, said.
"I gave it my all and we'll see what happens this afternoon," she added.
"I went into the race telling myself I would show everything I have.
"All I can say is I will do my best and we'll see how far that gets me."
Franklin's teammate Ryan Lochte, the second-most decorated men's world championship medallist after retired compatriot Michael Phelps, was third-quickest in the heats for the 200 metres backstroke, an event he won in 2007 and 2011.
Another American, Tyler Clary, Olympic gold medallist in London when Lochte took bronze, topped the standings ahead of Briton Craig McNally.
There are five finals in Thursday's evening session, the men's 200m individual medley and 100m freestyle and the women's 200m butterfly, 50m backstroke and 4x200m freestyle relay.
Photograph: Quinn Rooney/Getty Images