'After missing out on a medal at the Olympics I was really frustrated'
'Coming to the United States was not a good idea. I was not appreciated'
'I want to pay back to my country'
Gurcharan Singh tells Laxmi Negi/Rediff.com why he deserted the Indian team and the reason for wanting to return to the country after 15 years.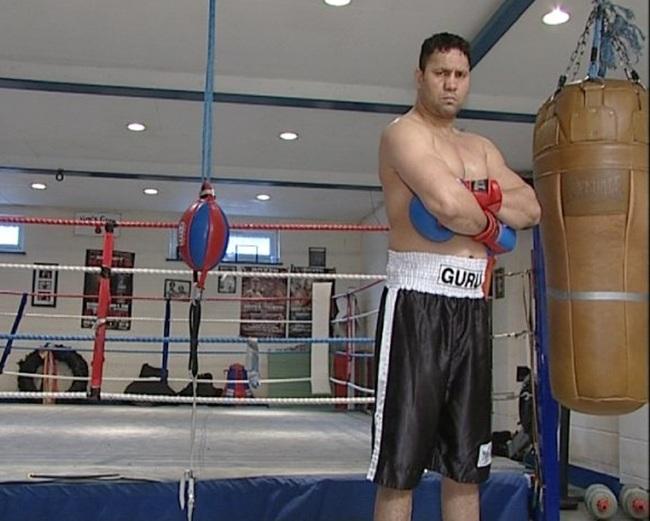 Heard of the Indian Olympic boxer who performed the vanishing act?
The light-heavyweight armyman was India's brightest hope at the Sydney Olympics in 2000 and reached the quarter-finals, only to lose out on a medal on a points' decision that could have gone either way.
Six months after those Games, he disappeared from a national training camp in the Czech Republic and was labelled 'deserter', 'fugitive'.
Now, 15 years on, Gurcharan Singh, who is based in New York, is a successful professional boxer, called Guru 'The Storm'.
At age 38, the 'missing' Olympian wants to return home, fight and train Indian boxers.
The change of heart can be attributed to the launch of the Indian Boxing Council (IBC), headed by former Indian Amateur Boxing Federation secretary-general Brig. P K Muralidharan Raja.
In a freewheeling chat, Gurcharan tells Laxmi Negi/Rediff.com why he deserted the Indian team and the reason for wanting to return to the country.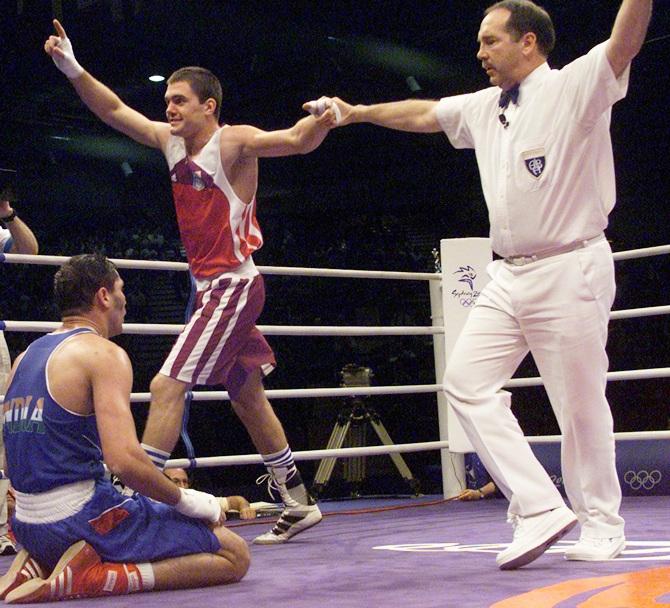 Image: Gurcharan Singh, left, wears a dejected look after losing to Ukraine's Andri Fedtchouk and missing out on a medal at the 2000 Sydney Olympics. Photograph: Reuters
Can you take us through the last few minutes of what is perhaps the most famous fight of your life, at the Sydney Olympics?
I got a wrong message. My team gave me a wrong message during my quarter-final bout (at the Olympics). They told me I was losing by one point.
Brig Muralidharan Raja had created a few signs for the boxers to give them information on how they are faring during the fight. But, at the last moment, he wasn't sent to Sydney with the boxing team. I panicked, but told the person in-charge about the signs. He hesitated, so I told him 'can't you just do this for your country?', but he goofed up. I still believe that had Brig Raja travelled with the team to Sydney I would have won a medal.

Was dejection the reason why you walked away from the team?
It was frustration, not dejection!
After missing out on a medal at the Olympics I was really frustrated. I just wanted to leave for somewhere. I wanted to go away and come back to boxing after some time.
Secondly, I was made to fight in a tournament when all I wanted to do was relax. The federation wanted me to rush into boxing.
Also, after the Olympics, there was a meeting and somehow I found myself sitting among the top boxing officials. They asked me my views. All I told them was to change the type of food in the national camps. Nutrition is the key. It the like fuel to our body. We used to be fatigued after training. When I spoke about food, the federation made a joke out of it. That was the last straw.
I love to eat. My mother could never feed me enough. I used to eat so much, but then I joined the camp and I could not swallow the kind of food we got there. Today I can cook my food how I want it.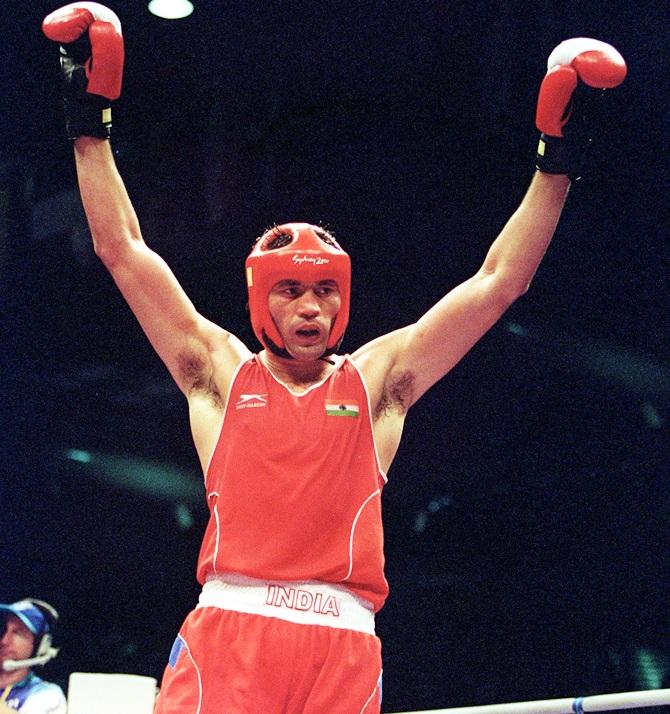 India's Gurcharan Singh. Photograph: Al Bello/ All Sports/Getty Images
It's about 15 years since you moved to the United States. Now we hear you want to return to India...
When the IBC came knocking, I told them I am interested in training and fighting. The knowledge I have, I want to share it with the other fighters.
I have been trying to come back for a long time, but no one lets me in.
I realised that coming to the United States was not a good idea. I was not appreciated.
I was one of the top 10 boxers when I turned professional. In 2004, I was beating everyone.
It was a World title fight at Atlantic City casino and I was at my peak. My bout was the main attraction of the night, but, sadly, just one Indian family from New York was there to watch it. There hasn't been any help from the Indians abroad. I did my part, but from the Indians I didn't get any following (his voice chokes as he speaks).
The Irish were always supportive and I always get some Spanish support, because of the way I look, but not from my own countrymen.
Indians are just interested in Bollywood. So I just let it be there. Let them enjoy their films and its stars!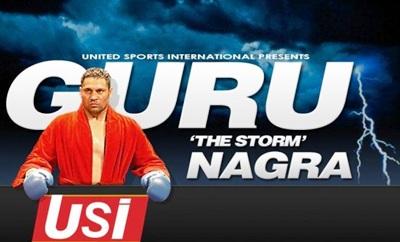 So why do you want to return to India now?
The United States is a beautiful country with a fine system of boxing in place.
While I was training here (in the US) to turn professional, I kept thinking about my 17 Sikh Battalion (Gurcharan was a naib subedar with the 17 Sikh Battalion). It hurts me that I am not with my army unit. I can't get away from that.
It has been 67 years, 5 months and 24 days of freedom (India's), but what have we done with it?
It hurts when I hear about all the atrocities against women, crime and corruption. I have stopped listening to India news because of the above reasons. Now I watch Aamir Khan's Satyamev Jayate. I am so happy with the kind of topics they have managed to touch upon. I thought change won't happen in India, but Satyamev Jayate gives me hope.
How can you help Indian boxers?
In 1996, I went to Cuba. I was questioning my trainers: 'Why do we train so much? Why do we do what we do?'. They had no answers. They never said I was right.
Now, since I have the answers, I would like to come to India and change the training.
Our government is investing money in our boxers, but there are no satisfactory results. It took us so many years to win an Olympic medal. I am glad we did win, but, then, we emphasize too much on winning medals. We don't emphasize on how to win.
Trying hard is just not enough; the fundamental basics are needed. We make a good copy; that's what we Indians are good at. If I am the coach of the Indian team I will fire every other coach in India. I will hire coaches who are trained by me. The coaches don't watch training sessions of other boxers.
In modern time boxers just have one session, but we in India have three training sessions. That is our minus point. A boxer gets tired and cannot think beyond that point. We still follow the old school of training. We need to cut down on the amount of training we do. An over-fatigued body doesn't last long. You can use your body for 10 years or abuse it for four years.
A boxer must learn how to fight his body before it gives up. I abused my body so much since I joined the national camp as a kid. I wanted to make changes in the training scenario but no one listened to me because I was a kid. Run, run and keep training... that's all that happened in the camp.
If there is any chance, I want to make use of it to come and train Indian fighters. I will come to India for Brigadier Raja. I want to pay back to my country. If they want change, I can do it without charging any fees, provided they are willing to change.
Do you still fight in the pro circuit?
It is difficult to keep fit and stay in the game. The injuries started making the going tough for me. I wanted to make a name, make money, but in the process I got injured.
Back in 2004, just before my important fight, I suffered a back injury. It was like the heavyweight title shot. I got an ACL injury (knee).
My last fight was in 2010 before I got injured... a shoulder injury.

Vijender Singh has turned pro. Any message for him?
Go ahead! He should not regret ten years down the line that he did not turn professional. I am glad he has finally turned pro. He will get a lot of exposure.