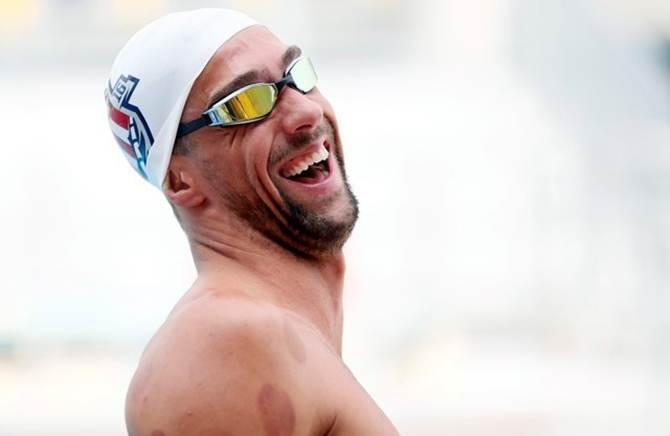 IMAGE: Team USA swimmer Michael Phelps prepares to swim laps during a practice session at Northside Swim Center in San Antonio, Texas, July 16, 2016. Photograph: Soobum Im-USA TODAY Sports/File Photo/Reuters
A mischievous Michael Phelps hinted the Rio Games may not be his last.
The most decorated Olympian of all-time said on Wednesday he is excited his infant son Boomer would be in the stands to watch "the potential" last races of his career.
The American, who retired after the 2012 London Olympics and was taken to task when he announced he would make a Rio comeback, appeared to be joking with reporters packed into his pre-Games news conference about continuing his career.
But the winner of a record 22 Olympic medals, including 18 golds, left the door open by the smallest of cracks that a sixth Games could be on his agenda.
"To have our first born be able to watch -- I'll say this just in case it comes back -- my potential last Olympics just so you guys don't beat me to death about coming back," said Phelps, drawing laughter from the packed hall.
"To have him (Boomer) watch the potential last races of my career is something I look forward to being able to share with him and also now being able to share the experience of carrying the American flag and leading Team USA out," he added.
The United States Olympic Committee (USOC) announced earlier on Wednesday that Phelps, who will be the first American male swimmer to compete at five Games, had been chosen in a vote of team members to lead the delegation into the Maracana stadium.
At the 2012 Olympics, which he had declared to be his last, Phelps won four gold and six medals but walked away filled with the regret that he simply went through the motions rather than embrace the moment.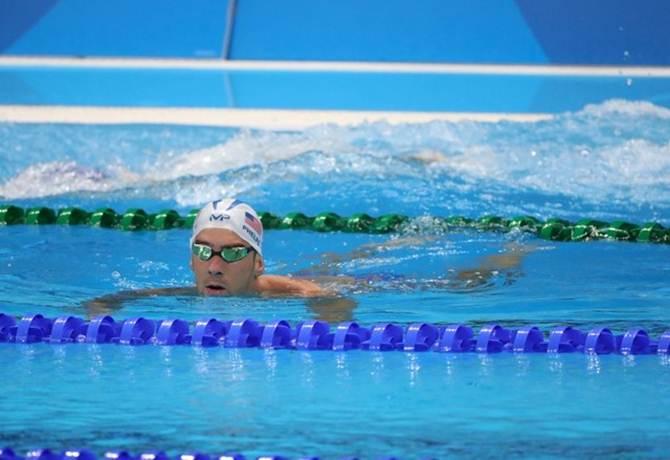 IMAGE: Michael Phelps of the United States crosses the lane ropes during a practice session at the Olympic Aquatics Centre prior to the start of the Rio 2016 Olympic Games. Photograph: Rob Schumacher-USA TODAY Sports/Reuters
That has not been the case in Rio where the 31-year-old has been acting more like a wide-eyed teenager at his first Games rather that a detached veteran nearing the finish line.
Phelps's Rio room mate Ryan Lochte for one believes the swimming world has not seen the last of his long-time rival.
"I'm really excited to see what he can do at this Olympics," said Lochte, an 11-times Olympic medallist who has duelled with Phelps throughout their careers.
"Honestly, I don't think that this is going to be his last Olympics.
"I said this in 2012 and he's back. So I'm saying he's going to come back again."
For Phelps this Olympic journey has been more important than the destination, a trip he has shared with his financee Nicole and infant son Boomer, who will both be in Rio.
An athlete who use to shut himself off at the Games and walk around with headphones on, a playful Phelps appears eager to savour every moment, even stopping top-ranked men's tennis player Novak Djokovic on Wednesday to have his picture snapped with the 12-times Grand Slam winner.
"I'm having fun again," said Phelps, who is widely expected to see his first action and shot at a 23rd Olympic medal on Sunday as part of the US 4x100 metres freestyle relay team.
"I think I'm at the point where whatever is left here I will be able to turn the page and say I was able to finish my career how I wanted to and for me that's all that matters," he added.
"This has been the greatest two years of my life for a lot of reason and I wouldn't change it."