Ronaldo was left with his entire face drenched in blood and required treatment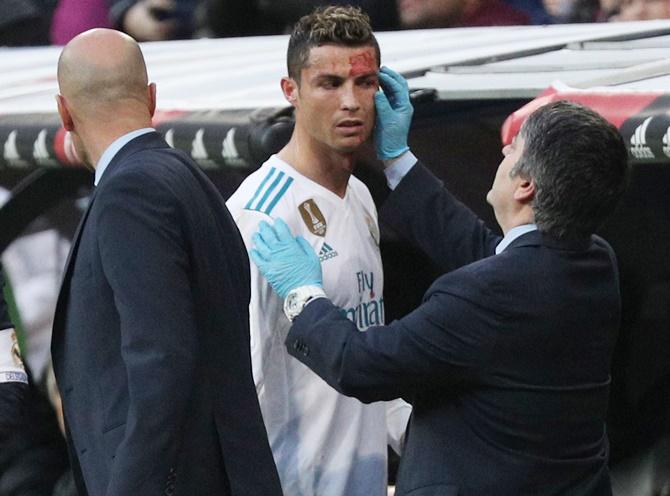 IMAGE: Real Madrid's Cristiano Ronaldo receives treatment as coach Zinedine Zidane looks on. Photograph: Sergio Perez/Reuters
Cristiano Ronaldo took his obsession with his image to new heights as he examined his bloodied face on the mobile phone of a Real Madrid doctor while walking off the pitch towards the end of Sunday's 7-1 win over Deportivo La Coruna.
Ronaldo scored twice against Deportivo to help ease Real's recent crisis but paid a heavy price for his second goal in the 84th minute as opposing defender Fabian Schar kicked the Portuguese forward in the face as he leapt to net his side's sixth goal of the game.
Ronaldo, who once claimed people were envious of him "because I'm rich, handsome and a great player", was left with his entire face drenched in blood and required treatment on the pitch immediately after scoring.
The club's doctors declared him unable to continue for the remainder of the game even though Real had used their three changes. As Ronaldo walked towards the dressing room his main preoccupation was with how his face looked.
He asked one of Madrid's medical staff if he could use his phone and was seen using the mobile's screen to scrutinise his face, which was left as red as the shirt of his former club Manchester United.