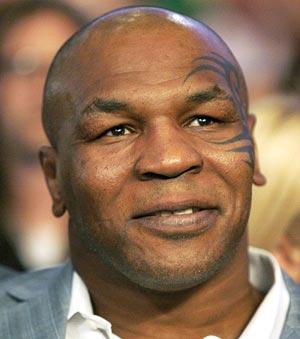 Former heavyweight boxing champion Mike Tyson was arrested on Wednesday after brawling with a celebrity photographer at Los Angeles International Airport and injuring the man's head, police said.
The photographer, who was not immediately identified, also was arrested. He suffered a cut to his forehead and was taken to a hospital. It is not known if Tyson was hurt.
"There's a lot of different versions to the story," Los Angeles Airport Police Sergeant Jim Holcomb said. "That's all going to come out later. But in this particular case, both individuals are going to be pressing charges for battery."
The Los Angeles Times, citing an unnamed source, said Tyson told police the photographer struck him in an attempt to provoke him, and the photographer claimed Tyson punched him in the face and tried to take film from his camera.
The scuffle is the latest incident between celebrities and aggressive paparazzi at the Los Angeles airport. Last year, rapper Kanye West was in an altercation with a photographer. West was cleared of charges last month.
Tyson, 43, won his first championship title at age 20, and his reputation as a ferocious boxer in the ring earned him the nickname "Iron Mike" during his heyday in the 1980s.
But he also has had a troubled history. As a boy, he was involved in criminal gang activity in Brooklyn, New York, and he eventually went to a school for troubled youth in upstate New York where he began boxing.
In 1988, as his career soared, he married actress Robin Givens. The pair fought publicly, Givens claimed he physically hurt her, and eventually they divorced.
In 1991, Tyson was accused of raping Desiree Washington, a Miss Black America contestant. He was convicted of sexual assault in 1992 and spent three years in prison.
After he bit off a portion of boxer Evander Holyfield's ear during a 1997 championship bout, Tyson's career never regained the lustre of his early years and he eventually retired from boxing in 2005.