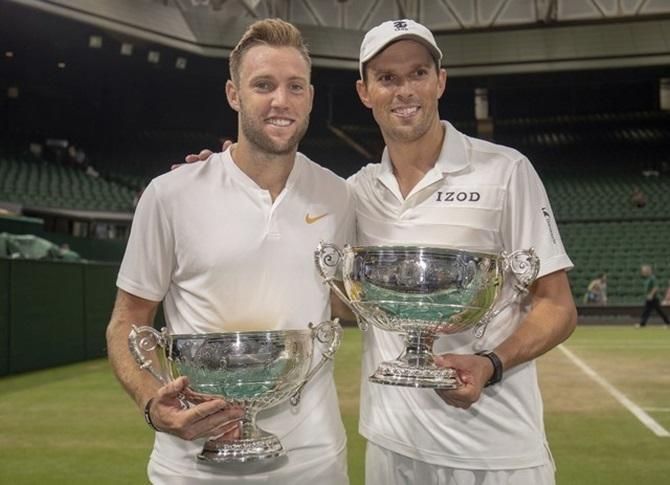 Mike Bryan of the United States claimed his 17th Grand Slam men's doubles title when he and Jack Sock beat Raven Klaasen and Michael Venus 6-3, 6-7(7), 6-3, 5-7, 7-5 in a thrilling Wimbledon final on Saturday.
It was the 40-year-old Bryan's first major title without his twin brother Bob, who missed the tournament due to injury.
The American pair started strongly to take the first set but South African Klaasen and New Zealander Venus fought back to level.
Klaasen and Venus dug deep again to take the match into a deciding set but Bryan and Sock, who won the men's doubles title at the All England Club in 2014 with Canadian Vasek Pospisil, sealed victory in three hours 39 minutes.
The Bryan brothers won the Wimbledon doubles title together in 2006, 2011 and 2013.
Czech duo Krejcikova-Siniakova win women's doubles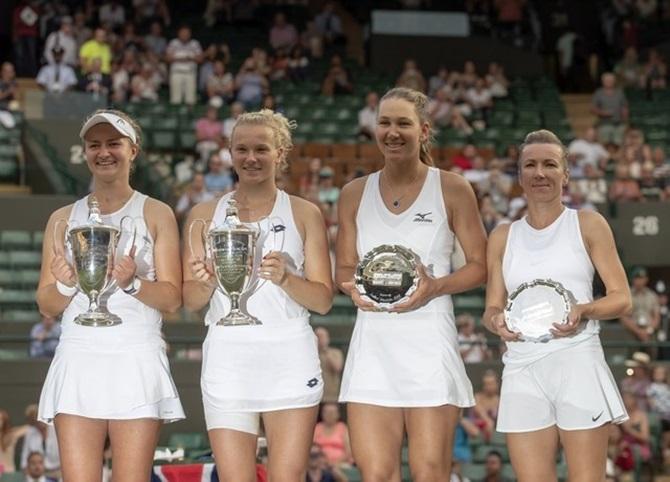 Czech duo Barbora Krejcikova and Katerina Siniakova won the Wimbledon women's doubles final -- five years after they won the junior title together -- and dedicated the victory to their late compatriot Jana Novotna.
They beat American Nicole Melichar and Czech Kveta Peschke 4-6, 6-4, 6-0 to add the Wimbledon title to the French Open crown they won last month.
Krejcikova said the triumph was a fitting way to mark the 20-year anniversary of the Wimbledon singles title won by Novotna who died last year.
"She really deserves for us to think about her in really good spirit, in really good way," she said.
"I think it's really good that it was mentioned that she won title here 20 years ago. It was her biggest title. She really wanted to win it, as I know from the stories she told me.
"Right here, like 20 years after her winning Grand Slam. Only doubles, but still it's perfect. I think she would be really proud too."
The only blemish on an otherwise great afternoon was that they did not get to play the title match on Centre Court because of delays caused by the over-running men's singles semi-final between Novak Djokovic and Rafael Nadal.
The last pair to win the Wimbledon women's doubles title on the back of the French were Kim Clijsters and Ai Sugiyama 15 years ago.