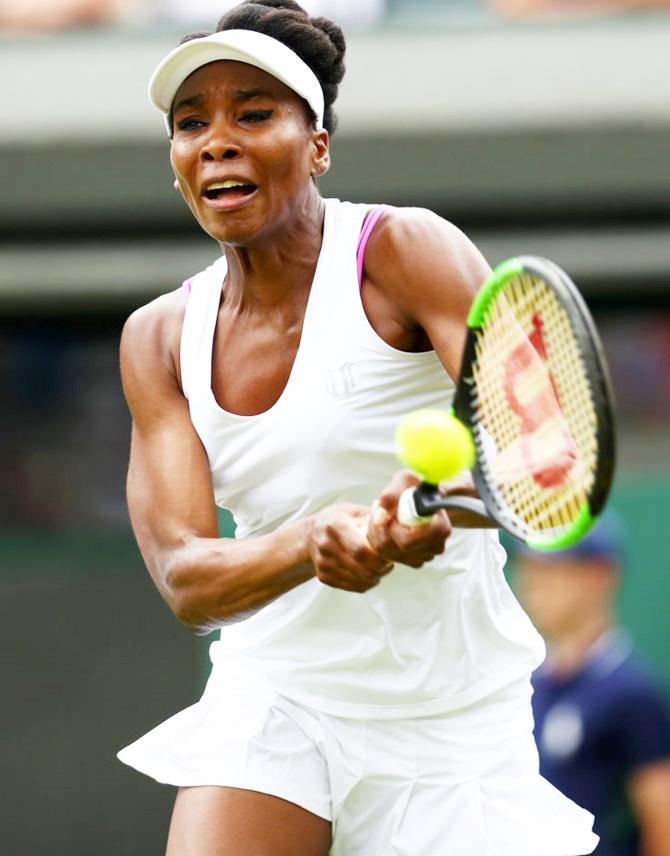 IMAGE: Venus Williams of the United States plays a backhand during her first round match against Elise Mertens at Wimbledon on Monday. Photograph: Michael Steele/Getty Images
Former Wimbledon champion Venus Williams was put in an embarrassing situation when she was reportedly asked by Wimbledon officials to change her pink coloured bra during the rain break during her first round match on Monday because it was in violation of the tournament's 'all white rule'.
Williams's bra was a clear violation of the All England Lawn Tennis Club's dress rules which state that "any undergarments that either are or can be visible during play (including due to perspiration) must also be completely white except for a single trim of colour no wider than one centimetre (10mm)".
Players are allowed "a single trim of colour no wider than one centimetre" on their all-white clothes, but bras are not included as part of the full ensemble.
According to The Telegraph, Williams's bra straps were initially not seen under her white top at the start of play, but as the game progressed the strap was clearly visible to spectators and officials.
The report suggests that the 14-time Grand Slam champion changed into another bra during the rain break in the second set of her opening match 7-6, 6-4 win over Belgium's Elise Mertens.
Williams refused to comment about the issue in her post-match press conference.
"Yeah, so I don't want to talk about undergarments," she said.
"It's kind of awkward for me. I'll leave that to you. You can talk about it with your friends. I'm going to pass," the 37-year-old added.
It is unclear if Venus changed her undergarments at the behest of tournament officials.