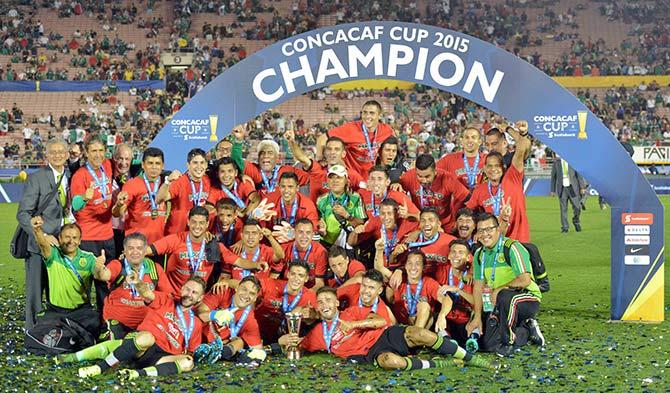 IMAGE: Mexico players pose with trophy after defeating the United States 3-2 in overtime in CONCACAF Cup match at Rose Bowl. Photograph: Kirby Lee-USA TODAY Sports
Mexico won a pulsating CONCACAF Cup playoff match against the United States 3-2 in extra time at the iconic Rose Bowl Stadium on Saturday to book their place in the next Confederations Cup.
It was their first victory against the U.S. since they clinched the 2011 Gold Cup final played at the same venue, and earned them bragging rights in what has become an intense football rivalry over the past two decades.
With a high-energy game tied 1-1 at half-time and also after full time on an unseasonably hot evening, forward Oribe Peralta broke the deadlock in the 96th minute with a powerful right-footed shot off a low cross from defender Paul Aguilar.
Mexico appeared to have victory assured with their greater composure on the ball but 12 minutes later they were stunned when forward Bobby Wood equalised for the U.S. after latching on to an exquisite through ball from defender DeAndre Yedlin.
Aguilar scored the decisive goal in breathtaking fashion in the 118th minute with a thunderous volley after the ball had bounced clear of the U.S. goal following a free kick.
Mexico's win ended a six-match winless run against the U.S. featuring three losses and three draws and earned them a spot at the 2017 Confederations Cup, an eight-nation event to be held in Russia as a prelude to the 2018 World Cup.
"I feel very happy for everything that the boys did," interim Mexico coach Richard Ferretti said during a news conference. "It's a result that we earned, for what they (the players) did and what they were looking for.
"In the time, the 120 minutes, we did a bit more to deserve the (decisive) goal. We won and we deserved it," added Ferretti, who will be replaced by Juan Carlos Osorio as coach after Tuesday's friendly against Panama.