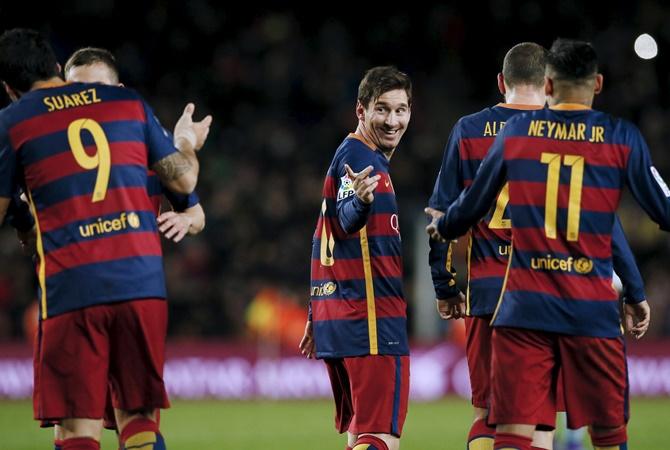 IMAGE: Barcelona's Lionel Messi, centre, gestures. Photograph: Albert Gea/Reuters
Barcelona's star striker Lionel Messi has backed Atletico Madrid to seal this year's Champions League title, saying his team don't want to see Real Madrid claim the trophy.
- There's good news and bad as Barca aim for La Liga crown in final round
- Another milestone awaits Ronaldo...
Barcelona were knocked out of the European Championship after suffering a 3-2 aggregate defeat in the quarter-finals at the hands of Atletico Madrid, who later stormed into the final after beating Bayern Munich.
Admitting that Champions League elimination was a major blow for Barcelona, the 28-year-old said that his side had a great chance to win the match as they had displayed a much better performance than Atletico in the first half.
The five-time Ballon d'Or winner, however, insisted that it would be great to see Atletico beat Zinedine Zidane's side in the finals.
"It would hugely please Barcelona if Atletico beat them in the Champions League final. What Atletico Madrid have done is great, it is not easy to beat them. They are a very tough opponent and [Diego] Simeone deserves credit for their performances," Messi was quoted as saying by goal.com.
Messi also called on Barcelona to end the season on a winning note.
"It would be great if we can end the season by winning the Liga title and the Copa del Rey. We realise it will not be easy, though. We have two finals left, one in La Liga and one in the Copa," he added.
Atletico will aim for the Champions League glory when they take on Real at San Siro stadium in Italy on May 29.