Mercedes accused Formula One's governing body of double standards on Thursday at a tribunal that could impose stiff sanctions on their team for allegedly breaking the rules with a 'secret' tyre test.
The team of 2008 world champion Lewis Hamilton - preparing for his home British grand prix next week - and Germany's Nico Rosberg - face anything from a reprimand to exclusion from the championship if found guilty.
Lawyer Paul Harris, representing Mercedes, suggested the International Automobile Federation (FIA) had treated his team in a very different way to Ferrari - who face no action despite both having tested with tyre supplier Pirelli this year.
Mercedes are charged with breaking the rules by using their current car at a 1,000 km tyre test in Barcelona with Pirelli last month and gaining an unfair advantage from it, an accusation they deny.
Ferrari, who have tested twice previously with Pirell1 including in April just before they won the Spanish Grand Prix at the same circuit, have not been summoned to the tribunal because they used a 2011 car.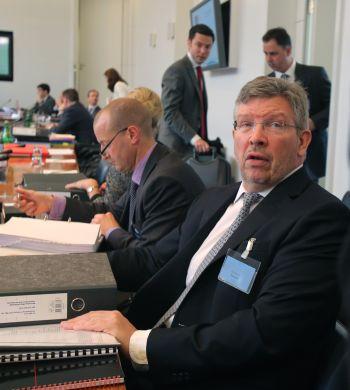 "The key differences in treatment are plain," said Harris, criticising a sporting body run by former Ferrari team boss Jean Todt.
"Ferrari were allowed to rely on a verbal confirmation from Pirelli that authorisation had been achieved but apparently we are condemned for this.
"Ferrari's dealings with the FIA were non-specific as regards dates, location, names of drivers. They are not criticised but apparently we are," he added.
"Ferrari was even more involved in the actual testing than we were, they booked and paid for the circuit. They are not criticised."
The lawyer went on to say that Ferrari's test in 2013 was not just a Pirelli test.
"One can see from the run sheets ... that in the middle of the day they were doing their own thing," he said. "But they are not criticised. They also exceeded the 1,000 kilometres."
PIRELLI TEST
The rules ban teams from testing with a current car, or one from the previous year, during the season but Pirelli are entitled to carry out a number of tyre tests.
Pirelli argue that they are not competitors in the championship and are therefore not subject to the same regulations as teams - which the FIA disputes.
"It was a test or track running by Pirelli," said Harris. "It wasn't undertaken by Mercedes, there's no case."
Mercedes say they did not know what tyres were being tested and their drivers used unmarked helmets to avoid unwelcome attention from fans rather than to avoid discovery by rivals.
The FIA's lawyer Mark Howard had earlier accused Mercedes of breaking the rules and gaining an unfair benefit, a charge made by champions Red Bull who protested with Ferrari when they found out about the test.
He told the four judges and tribunal president Edwin Glasgow that there was little factual dispute in the case.
"There is not much room for doubt that the Mercedes 2013 car was a car covered by the regulations and that the car was subjected to track running time in Barcelona," he said.
"Track testing is deliberately defined as track running time," Howard explained. "It is a term used deliberately because it is unambiguous ... any running on the track is deemed to be testing.
"It is difficult to say that Mercedes gained no benefit from the test."
The tribunal heard that Mercedes sporting director Ron Meadows and principal Ross Brawn, both at the hearing, spoke to FIA technical head Charlie Whiting on May 2 to ask whether testing with a 2013 car was permissible.
"What is very odd about all of this is that on the basis of the telephone calls, both Mercedes and Pirelli went ahead without getting back to Mr Whiting and making clear precisely ultimately what they were intending to do," said Howard.
He added that any authorisation to test should in any case have been sought from the FIA's world motor sport council and secretary general Pierre de Coninck rather than Whiting - something Mercedes said Ferrari did not do either.
Red Bull principal Christian Horner, whose team made a protest against Mercedes at last month's Monaco Grand Prix, was attending the hearing along with chief engineer Paul Monaghan.
Ferrari sent two lawyers while Mercedes-powered McLaren and Williams also sent legal representatives.
The FIA has said a verdict will be issued "as soon as possible" after the hearing.
Photograph: Michel Euler/Reuters