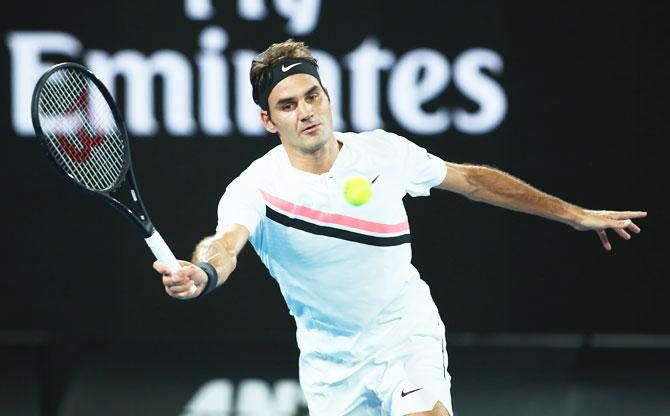 IMAGE: Roger Federer in action during his second round match at the Australian Open on Thursday. Photograph: Clive Brunskill/Getty Images
Temperatures soared yet again on Friday with the mercury hitting the 40 degree Celsius (104F) mark at Melbourne Park.
Players complained about the conditions, with France's Alize Cornet stating extreme the heat policy could be endangering the safety of players, this, after she suffered dizzy spells during her third round match against Elise Mertens on Friday.
Cornet slumped to the court after serving during the second set of her 7-5 6-4 defeat by Mertens at the Hisense Arena and needed a medical assessment.
"I just saw Cornet on the court, and she's really struggling," said Croatia's Petra Martic, who sweated through a 6-3, 3-6, 7-5 defeat of Thailand's Luksika Kumkhum to reach the last 16 on her 26th birthday.
"But of course, I mean, these conditions are really, really tough, and there are some girls that don't handle it well. They are having tough times out there."
On the other end of the spectrum was second seed Federer, who made no apologies for being scheduled to play during the evening session when the temperature, which peaked at 40 degrees Celsius in the afternoon on Thursday, had dipped to more manageable levels.
"We know it can be very hot here in Australia. I remember the days when we had four days of 40 degrees in a row a few years back. Now we got two," he said.
"It's definitely a challenge. It's hard to prepare for that in some ways. But you know when you come down here that can happen. I'm happy I played at night time. But I would back myself playing during the daytime also."
"Sure, I was watching the other players suffer. As long as nothing bad happens, it's all good."
Tournament director Craig Tiley said the Australian Open was one of the only events in the world to actually have a heat policy.
"The policy is from consultation with the players, and remember in most places, be it the Middle East or others parts where it is very warm, they don't have a heat policy," AFP quoted him as saying.
"Throughout the site we have ice misters, there's plenty of water. For the players there's ice vests, there's longer periods of rest and they of course have shade on their chairs," he added.
"These are professional athletes. We are at the end of the day an outdoor event. We want it to stay an outdoor event as long as possible but at the same time ensuring that the health and wellbeing of players is taken care of."