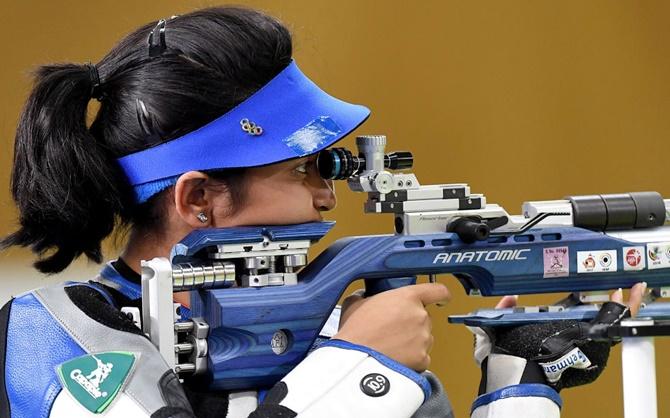 Young Mehuli Ghosh settled for the silver medal after forcing a shoot-off in the women's 10 metres Air Rifle event with a perfect final shot of 10.9, and Apurvi Chandela secured bronze, in the Commonwealth Games, in Gold Coast, on Monday.
The 17-year Ghosh shot an excellent 10.9 to take the final into a shoot-ff with Singapore's Martina Lindsay Veloso, the eventual gold medallist, with a Games' record score of 247.2.
Ghosh also aggregated a record 247.2 but a 9.9 in the shoot-off put paid to her hopes of claiming the top prize, as Veloso fired a 10.3.
Defending champion Chandela totalled 225.3 to finish third on the podium.
It was a high-quality women's air rifle final as both Ghosh and Veloso had 20 scores each of 10 or above.
Chandela had shot 10-plus on 19 occasions before being toppled by her younger compatriot.
From fourth place, Ghosh shot two successive 10.7s to displace Scotland's Mcintosh Seonaid and Chandela from their respective positions.
A 10.7 and 10.4 by Chandela then placed her tied with Veloso, but pressure seemed to have got the better of the Indian and she bowed out with a 9.9 and 9.4.
Two 10.3s and a 10.7 kept Ghosh in contention for the top prize as she inched closer to what would have been an incredible win with the only 10.9 of the final.
Chandela had earlier smashed her own Commonwealth Games qualifying record from four years back by scoring 423.2.
Her sequence of scores over four series in qualifying read a very impressive 105.7 105.2 106.1 106.2.
Ghosh was fifth in qualifying with 413.7, following scores of 104.3 103.7 102.2 and 103.5 over the four series.
However, the bronze medallist in her maiden ISSF World Cup outing in Mexico last month produced a better performance to topple her more experienced compatriot.
Trained by Olympian Joydeep Karmakar, Ghosh showed her fighting abilities all through but fell short by just .4 in the end.