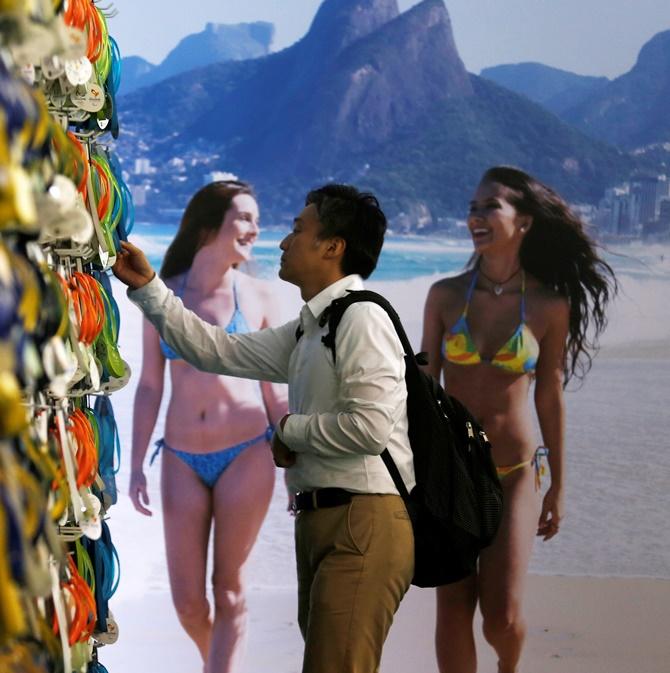 IMAGE: A man checks out products during the opening of the Rio 2016 Olympics megastore on Copacabana beach. in Rio de Janeiro. Photograph: Pilar Olivares/Reuters.
An astounding 11,400 athletes will travel from more than 200 countries to compete in the Rio 2016 Olympics.
Twenty nations will be represented by three or fewer athletes; they included Afghanistan, Belize, Gambia and South Sudan. Nine will be represented by only two competitors, and one country will be represented by a sole athlete.
Sprinter Etimoni Timuani will carry the flag at the opening ceremony for the South Pacific nation of Tuvalu, the smallest delegation at Games in Rio de Janeiro.
If you are looking to cheer an underdog at the Games, these 10 minnows might provide some inspiration.
Tuvalu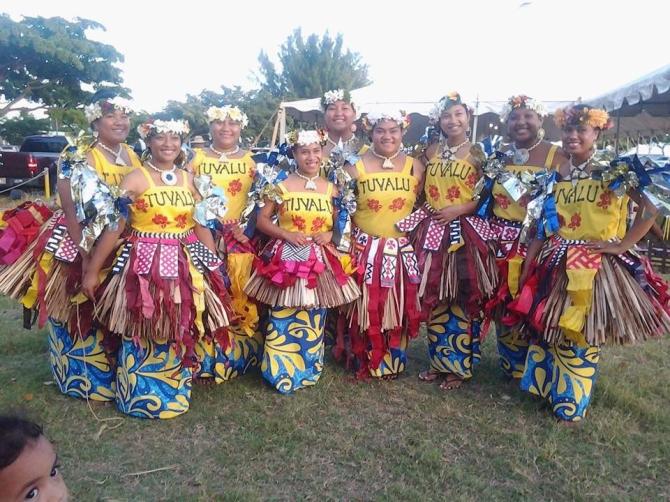 IMAGE: Women from Tuvalu during a local festival. Photograph: Twitter.
Who to watch: Etimoni Timuani, 24, a professional footballer in the Tuvalu A-Division is competing at Rio 2016 in athletics, in the men's 100m sprint.
Capital: Funafuti Language: Tuvaluan, English and dialects Population: 10,600
Beach party: Tuvaluans eat coconut and dance to live music at celebrations known as fateles.
Comprising nine islands, Tuvalu ranks as the fourth smallest country on the planet in terms of land mass, and was formerly known as the Ellice Islands before gaining independence from Great Britain in 1978.
Tuvalu means "eight standing together," according to Tuvalu Online.
Bhutan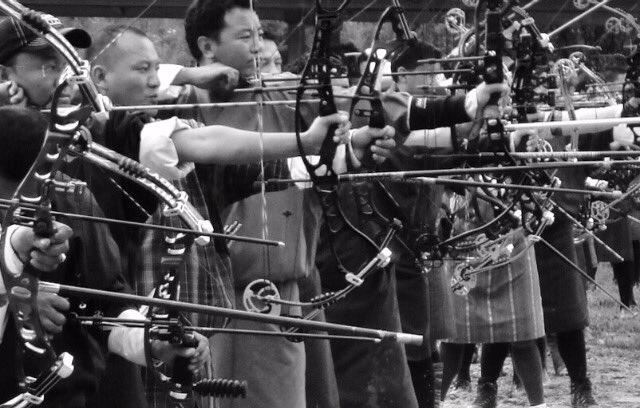 IMAGE: Archers in Bhutan. Photograph: Twitter.
Two to watch: These women will represent Bhutan at Rio 2016.
Competing in Bhutan's national sport, 26-year-old archer Karma (known by the one name only) won two bronze medals at the South Asia Games in February and will appear in the women's individual event at Rio 2016.
Shooter Lenchu Kunzang, 24, will compete in the women's 10m air rifle.
Capital: Thimphu Language: Dzongka Population: 740,000
Made from chillies and cheese (such as from yaks), ema datshi is a famous and celebrated Bhutanese dish often eaten with rice.
Often held with the Bhutanese monarchy in attendance, food and drink are integral to archery competitions, where you can expect to see rivals standing near the target while joking, teasing and generally trying to distract the archer.
Chad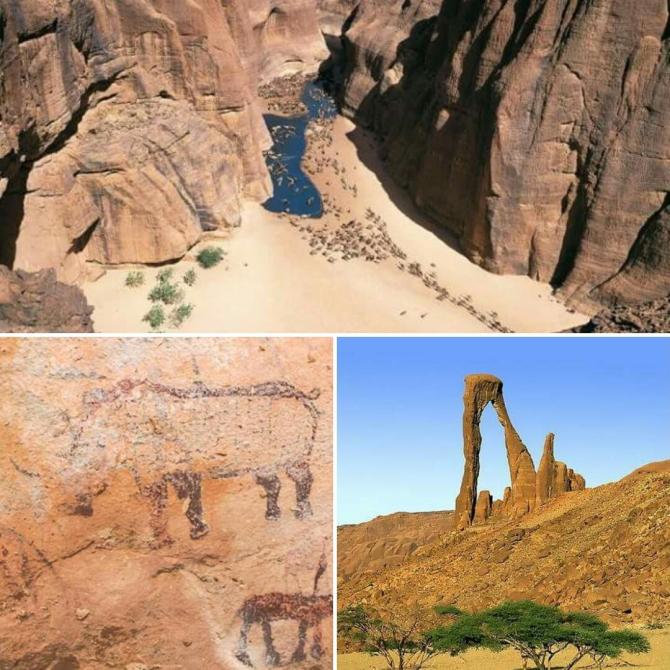 Two to watch: First time Chadian Olympians Bachir Mahamat, 19, and Bibiro Ali Taher, 28, both compete on the running track.
Mahamat will run in the men's 400m, and Taher will race in the women's 5000m.
Capital: N'Djamena. Language: Arabic and French Population: 13,600,000
The Ennedi Plateau in the northeast of the country is a massive sandstone bulwark with naturally occurring arches, pillars and towers, located in the middle of the Sahara.
Canyons draw animals and people, including civilizations that made elaborate rock paintings.
Dominica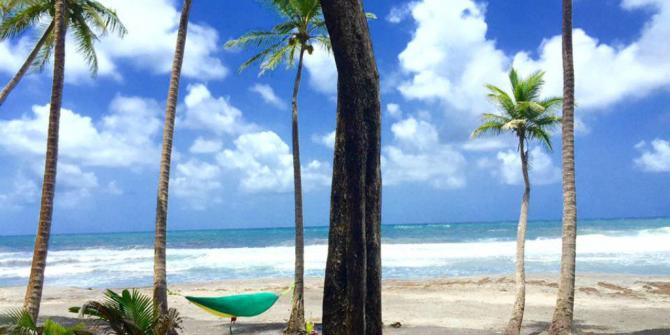 Two to watch: The two Dominican athletes competing at Rio 2016 are competing in the triple jumper.
These Olympic Games are the first for Cuban-born Yordanys Duranona, 28, and Thea LaFond, 22, who was a student at the University of Maryland in the US and is also an accomplished long and high jumper..
Capital: Roseau Language: Dominican Creole French, Island Carib and English Population: 72,300
Known as the "nature island" the small Caribbean nation has 365 rivers, according to its tourism office, and is a popular destination for water sports, hiking and scuba diving.
Equatorial Guinea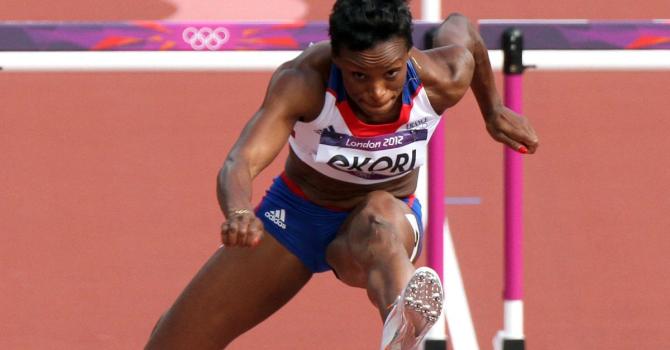 IMAGE: Reina-Flor Okori of Equatorial Guinea. Photograph: Twitter.
Two to watch: At the age of 36, Reina-Flor Okori, is competing at her fourth and final Olympic Games in the women's 100m hurdles as she intends to retire following Rio 2016. The three-time Olympic semi-finalist also holds French citizenship and is a three-time French champion in the discipline. Her team-mate is 27-year-old 800m racer Benjamin Enzema, who competed at London 2012.
Capital: Malabo Language: Spanish, French, Portuguese and dialects Population: 1,200,000
The small, west-central African country expands into the Atlantic Ocean on five islands, including Bioko where the capital is located and Corisco, which derives from the Portuguese word for lightning. The islands are celebrated for long, silver-white beaches.
Nauru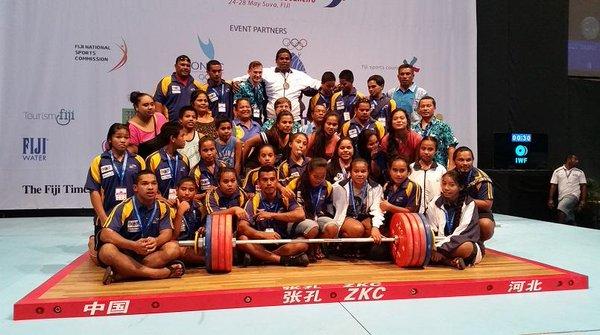 IMAGE: Weightlifting is widely followed in Nauru. Photograph: Twitter.
Two to watch: Two Nauruans compete at the Olympic Games for the first time.
Black belt Ovini Uera, 28, won bronze in judo at the 2016 Oceania World Championships in Australia and will compete in the men's 90kg competition at Rio 2016. Standing 1.55 metres (5ft 1in), weightlifter Elson Brechtefeld will compete in the men's 56kg division.
Capital: Yaren Language: Nauran and English Population: 11,000
Considered a national sport, Australian rules football is a very popular sport in the island nation of Nauru, once the site of large-scale phosphorus mining operations in the Pacific Ocean.
Somalia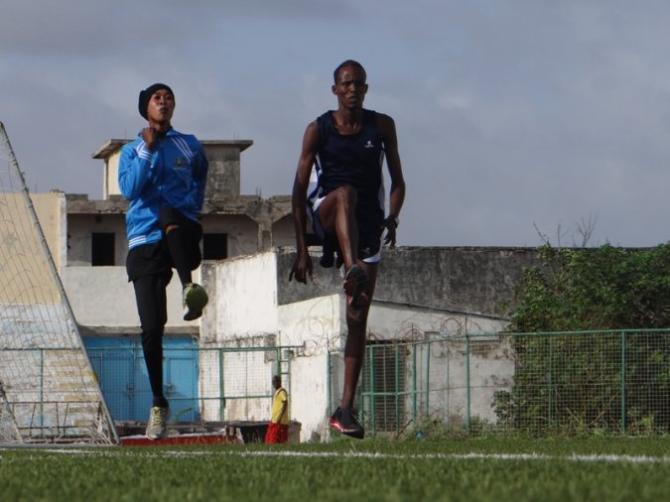 IMAGE: Somalian runners Mohamed Mohamed and Maryan Muse. Photograph: Twitter.
Two to watch: Reaching the Olympic Games is a monumental feat for Somalian runners Mohamed Mohamed and Maryan Muse.
Mohamed, 20, will compete in the men's 5000m, and 19-year-old Muse will race in the women's 400m event.
Capital: Mogadishu Language: Somali and Arabic, Population: 10,800,000
Located on the Horn of Africa, Somalia has a history of commerce and trade, especially on the sea.
Courtesy: Rio2016