The election to replace outgoing Sepp Blatter will take place at an extraordinary congress on February 26 in Zurich.
Meet the potential FIFA presidential candidates following Chung Mong-Joon's announcement on Thursday that he plans to stand.
Candidates must formally declare their bids four months earlier, on October 26, with the written backing of five national associations.
Each of FIFA's 209 national associations holds one vote. The ballot is secret, making it difficult for continental confederations to enforce block voting.
DIEGO MARADONA
Age: 54
Nationality: Argentine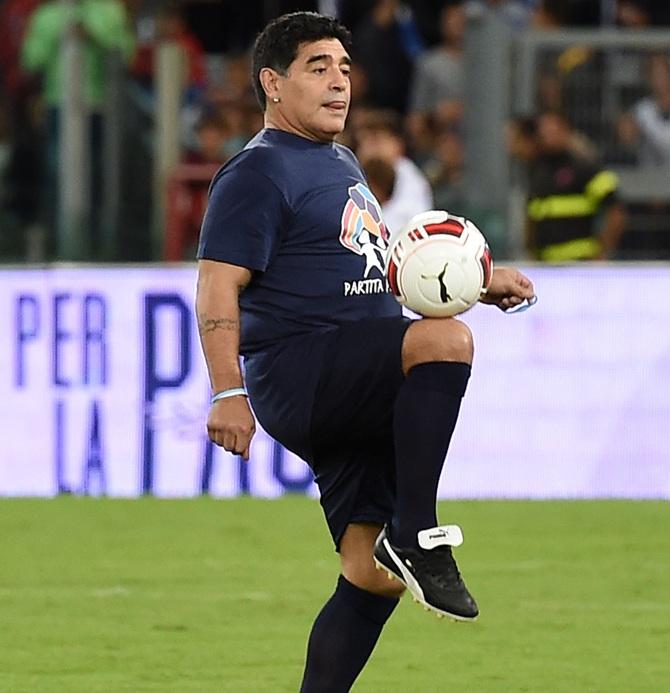 Argentine football great Diego Maradona wants to fight FIFA 'mafia'. Photograph: Giuseppe Bellini/Getty Images
Although it has been reported that he intends to stand, he stopped short of declaring his intentions during a television interview on Wednesday, saying only: "I really want to be in FIFA."
A long-standing critic of FIFA and president Sepp Blatter, he habitually describes football's governing body as a mafia.
One of the greatest players to have graced the game, Maradona played in four World Cups and led Argentina to the title in 1986, although his career was later blighted by doping bans.
Also coached Argentina at the 2010 World Cup when they were knocked out in the quarter-finals.
ZICO
Age: 62
Nationality: Brazilian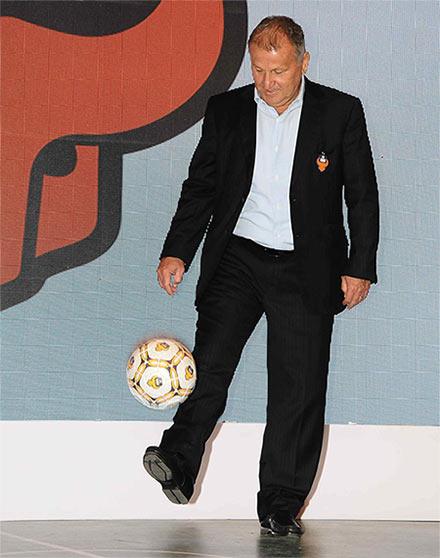 Zico's FIFA bid got lukewarm backing from CBF. Photograph: Giuseppe Bellini/Getty Images
One of the finest players his country has ever produced, he took part in three World Cups, had a brief spell as the head of the Brazilian government's sports secretariat in 1991, then set up his own football club and academy, CFZ.
That was followed by a varied coaching career where he led the national sides of Japan and Iraq and clubs in Greece, Turkey, Russia, Uzbekistan, Qatar and India.
He would be a genuine outside candidate, having had no previous experience with FIFA.
In a television interview on Tuesday, he said he had written to the Brazilian Football Confederation (CBF) asking for them to back his bid.
"It's logical, I'm Brazilian, I've served my country and of course I couldn't go chasing after support without first asking the federation of my own country," he said. He also hoped for backing from other countries where he has worked.
MICHEL PLATINI
Age: 60
Nationality: French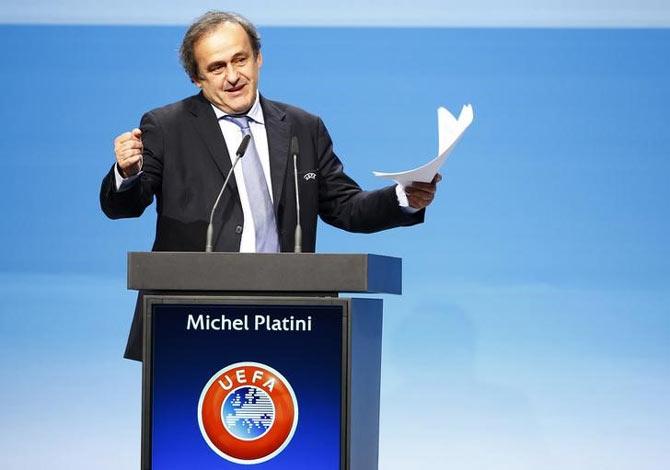 UEFA head Michel Platini has long been the bookmakers' favourite to succeed Sepp Blatter. Photograph: Leonhard Foeger/Reuters
Former France international who played at three World Cups and led France to the European championship title on home soil in 1984.
Voted onto the FIFA and UEFA executive committees in 2002.
In 2007 he defeated Lennart Johansson to become the president of UEFA.
Under Platini's leadership, UEFA has introduced a break-even rule known as Financial Fair Play to reign in spending by clubs and has opposed the use of goal-line technology.
Reported as having the backing of four of the six continental confederations, although there is no guarantee they can persuade all of their members to vote for him. He announced on Wednesday in a statement on UEFA's website that he intended to run.
CHUNG MONG-JOON
Age: 63
Nationality: South Korean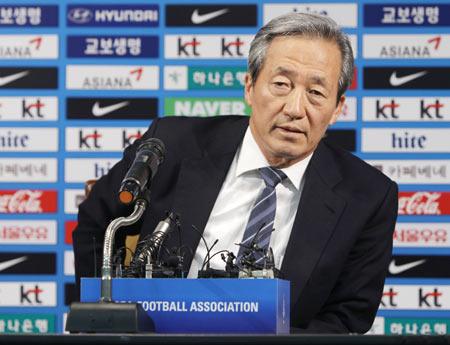 One of the most influential figures in Asian soccer, Chung Mong-Joon. PhotographChung Sung-Jun/Getty Images
The billionaire scion of South Korea's Hyundai industrial conglomerate, Chung was president of the Korea Football Association from 1993 to 2009 and sat on FIFA's executive committee from 2002 until 2011.
His bid would depend heavily on getting support from Asia. He announced his decision to run on Thursday in an interview with Reuters.
PRINCE ALI BIN AL HUSSEIN OF JORDAN
Age: 39
Nationality: Jordanian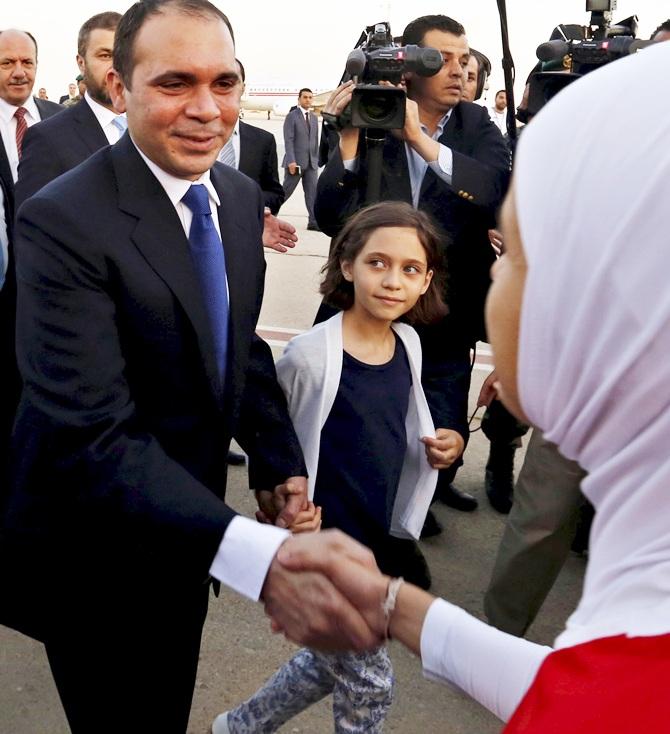 Members of the Jordanian women's national soccer team welcome Jordan's Prince Ali bin Al Hussein. Photograph: Muhammad Hamed/Reuters
Ran against Sepp Blatter in May and withdrew after the first round of voting when he polled 73 votes to Blatter's 133.
The third son of the late King Hussein of Jordan, he has been president of the Jordanian Football Association since 1999 and sat on the FIFA executive committee from 2011 to 2015.
Has yet to announce if he will stand. He would have to go without the backing of UEFA who provided around half of his votes in May.
DAVID GINOLA
Age: 48
Nationality: French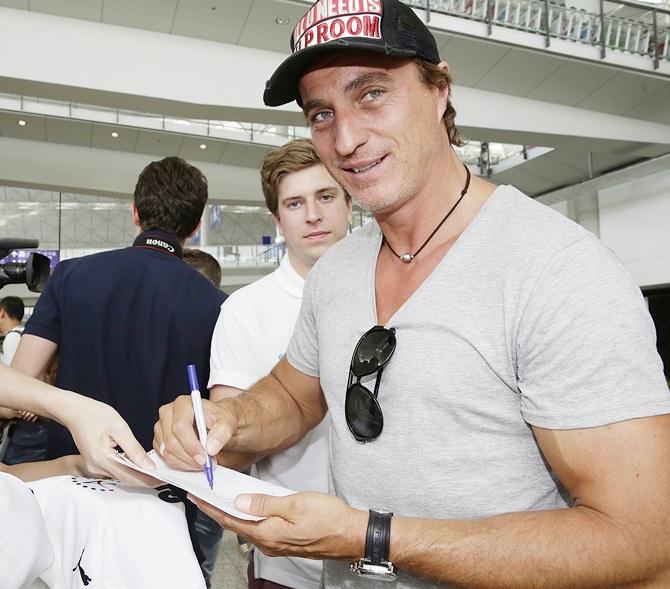 Former international football player David Ginola. Photograph: Jessica Hromas/Getty Images
Former France international who also played for several English clubs. He announced in early June, although has kept a low profile since.
JEROME CHAMPAGNE
Age: 57
Nationality: French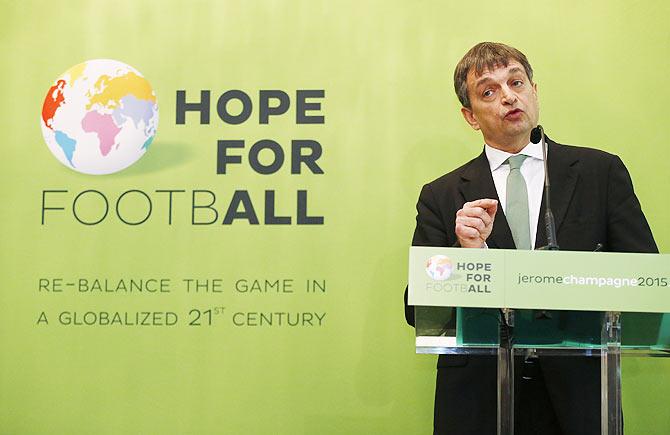 Jerome Champagne speaks during a news conference. Photograph: Suzanne Plunkett/Reuters
Former French diplomat who became one of the most important and influential members of FIFA during 11 years at football's governing body between 1999 and 2010.
His main concern is the growing divide between the powerful leagues and clubs of Western Europe and football in the rest of the world.
He intended to stand in the last election in May but pulled out after failing to get the backing of five associations. Has not yet decided whether to put himself forward this time.
MUSA BILITY
Age: 48
Nationality: Liberian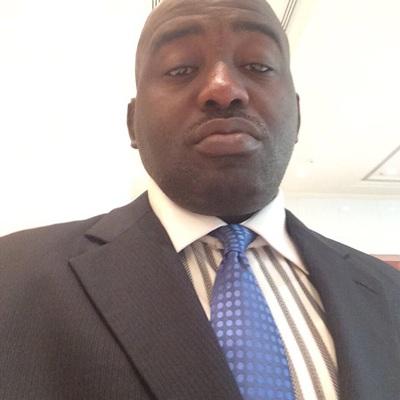 President of the Liberian Football Association since 2010, announced his intention to stand in June in an interview with the BBC, reconfirming his intention in another interview on Wednesday.
Bility said he wanted to break Europe's stranglehold on the FIFA presidency.
"We're in the 21st century and Europe has to understand that the rest of the world deserves to be head of this organisation. This is not the European Union, this is not UEFA -- this is FIFA."