Goffin is enjoying a dream end to 2017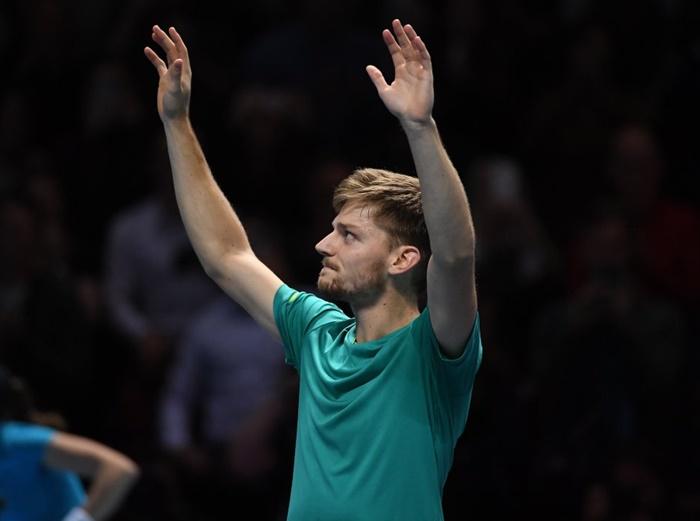 IMAGE: David Goffin celebrates. Photograph: ATP Tour/Twitter
As if clocking up a first victory over Rafael Nadal was not enough, David Goffin continued breaking new ground by stunning Roger Federer at the ATP Finals on Saturday to claim the biggest win of his career and reach the final.
Few gave the willowy world number eight a prayer against the Swiss maestro who had rolled through his round-robin matches unbeaten for the 10th time.
Yet Goffin, beaten in all six prior meetings with Federer, turned the tables to claim a 2-6, 6-3, 6-4 victory.
His comeback win means a new name will be on the trophy this year with fellow first-time qualifiers for the elite event Grigor Dimitrov and Jack Sock contesting the second semi-final.
"Both are really special. It was the first time against Rafa. Then the semi-final, to beat Roger for the first time here in such a big event, big tournament, it was the perfect moment," Goffin, who beat a physically-struggling Nadal on Monday, said.
"It is the win of my career, for sure."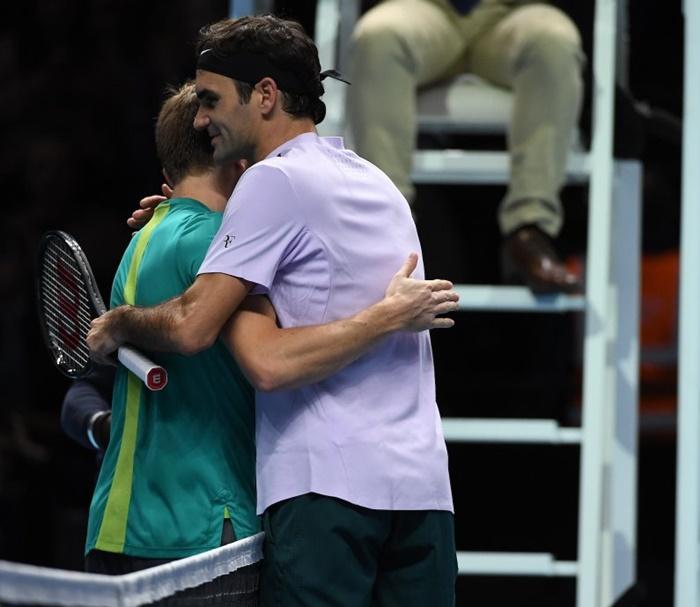 IMAGE: Roger Federer congratulates David Goffin. Photograph: ATP Tour/Twitter
Goffin sustained a freak injury at this year's French Open when tripping on a court cover and rolling his ankle, then missed Wimbledon to recover.
He is enjoying a dream end to 2017 which will conclude when he leads Belgium in the Davis Cup final against France in Lille.
On Saturday, it appeared he would have an extra day to prepare for national duty as he was outclassed by Federer in the opening set -- the 36-year-old world number two feasting on the elegant Goffin's steady, medium-pace game.
It looked as though he was set for his second heavy beating of the week, having got only two games against Dimitrov in their group clash, but Goffin is made of sterner stuff.
The second game of the second set was to prove a turning point as Goffin, beaten 6-2 6-1 by Federer in Basel last month, broke the Swiss's serve with a forehand winner.
Goffin consolidated his lead to take the match into a decider that hardly looked possible a short while before.
Growing in confidence, the 26-year-old broke Federer's serve again at 1-1 in the third set as the Swiss, suddenly anxious and struggling for timing, struck a backhand out.
There was plenty of time for 19-time Grand Slam champion Federer to re-assert his authority and he had an immediate break-back chance but Goffin saved it with a sharp volley.
Goffin stayed cool and his moment of truth arrived at 5-4 when he stepped up to serve for the biggest win of his career.
Consecutive aces gave him a 30-0 cushion before he buried a nervy forehand in the net. Federer then went wide with a forehand to give Goffin two match points and a swinging first serve proved too good.
"When you start the game with an ace, it's always better," Goffin, the first Belgian to qualify for the ATP Finals, said.
It was only Federer's fifth defeat of a superb year in which he roared back from an injury lay-off in 2016 to win the Australian Open and Wimbledon titles.
"Wish I could have played more aggressive today, but just never really felt comfortable taking the ball on," Federer said.
"It's kind of disappointing to finish on this note. But whatever happened today is less important than if I look at the entire season. With that season, I'm extremely happy."