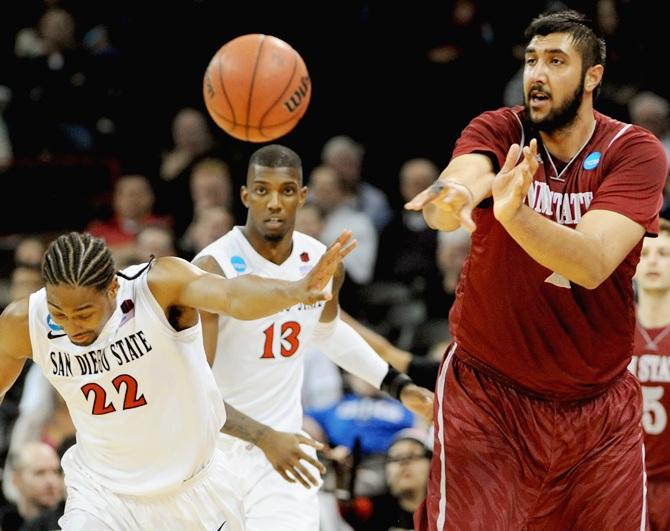 Sim Bhullar passes the ball. Photograph: Steve Dykes/Getty Images
Canadian Basketball professional Sim Bhullar is reportedly set to become the first player of Indian origin to play in the National Basketball Association (NBA), as the Sacramento Kings are planning to sign the 7-foot-5 player to a 10-day contract on Thursday.
A source revealed that Bhullar would be on the roster Friday when the Kings host the New Orleans Pelicans as the expiry of David Wear's 10-day contract would pave way for a roster spot.
Bhullar, who was born in Toronto to Indian-born parents, has played two seasons at New Mexico State, and is averaging 10.3 points, 8.8 rebounds and 3.8 blocks in Reno's fast-paced system.
Reflecting on Bhullar's performance, Bleacher Report observed that nearly every D-League opponent struggles to keep him off the block, adding that when he gets a clean post-entry pass, all it takes is one or two power dribbles for him to easily convert a baby hook or dunk.
The report added that it was not surprising that he leads the league in field-goal percentage with 73 per cent.